WoW
Sep 20, 2023 3:00 pm CT
How to get the Brewfest Armor for your Renewed Proto-Drake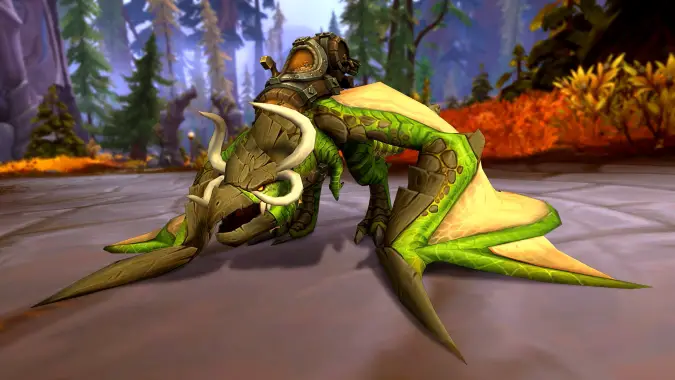 It's time for Brewfest in World of Warcraft and your Dragonriding mount is ready to enjoy the festivities with their own special Brewfest Armor. Unlike the Pirate's Day Armor you'll need to hope for some loot luck as the Renewed Protodrake: Brewfest Armor manuscript is found at random in the Keg-Shaped Treasure Chest you get for defeating Coren Direbrew.
Coren Direbrew is a holiday NPC that is only accessible via the groupfinder for dungeons. The option for Coren Direbrew will be in the list alongside Random Heroic Dungeons and Specific Dungeons. Simply queue up for the fight, emerge victorious and hope you get the Brewfest Armor manuscript. Once the manuscript is in your bags right click it to learn it. It's important to note that each character only has one chance a day to get it — farming Coren Direbrew on one toon will not help.
Any character level 60 or higher will get the epic Keg-Shaped Treasure Chest that can contain the Brewfest Armor; lower level characters receive a "common" reward that doesn't contain it or the mounts. There's also the strong possibility that the chance to get it is greatly decreased for subsequent characters on the same day (similar to what happens to the X-45 Heartbreaker during Love is in the Air) but no confirmation has been received on that point.
The Brewfest Armor is account-wide so you only need to have it drop once, although remember that the only Dragonriding mount that can equip it is the Renewed Proto-Drake — if you were hoping to carry your keg on your Highland Drake or the Flourishing Whimsydrake arriving in patch 10.2 you're sadly out of luck. To switch to this armor appearance head to your nearest Rostum of Transformation, select the Renewed Proto-Drake's body customizations, make sure Armor is on and select the Brewfest Armor.
While the Brewfest Armor can only be earned during the holiday, it can be equipped on your Renewed Proto-Drake for the entire year. So be sure to keep defeating Coren until you get it so you can keep a close eye on your brew while cruising through the Dragon Isles.