WoW
Nov 16, 2023 9:00 am CT
Amirdrassil Race to World First: Instant Dollars leads the race with a Volcoross one-shot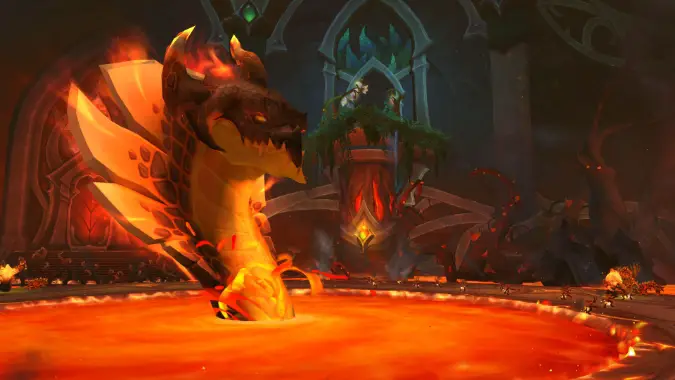 The Race to World First for Amirdrassil is underway, and after two days of watching guilds do Heroic splits we have some raid progress! The first four bosses have fallen to bands of intrepid raiders in quick succession. North American guild Instant Dollars is currently in the lead after having managed the impressive feat of obliterating the fiery serpent Volcoross in just a single pull.
Our current standings for the race as of this writing are:
Instant Dollars 4/9
blue shoe 1/9
Honolulu 1/9
Volcoross' difficulty comes mostly from having to split your raid and the sheer amount of mechanics to dodge, so for coordinated raiders, it didn't prove much of a challenge. These are mechanics that World First caliber players have been dealing with for the last few expansions. Even all of the additional lava and swirls that these raiders have to dodge while still pumping out damage can't stop these raiders from
So far the first four Mythic bosses have died in very few pulls, which is par for the course in prior races. Instant Dollars only took four pulls to get Igira the Cruel, and seven for the Druid Council. Raids don't typically get truly tough for these World First raiders until the halfway mark. Even then we haven't seen a mid-boss like Halondrus in the last couple of raid tiers so we'll have to see if Larodar, Nymue, or Smolderon can live up to that giant robot crab's legacy. Although with five pulls under their belt, Instant Dollars already has Larodar down to 60% so it's looking unlikely that he'll be a major roadblock.
North America has had two full days of the race and the European guilds will be about halfway through their second day. We're still a few raid splits away from seeing our top guilds really jump into the action, as they're still trying to maximize the gear on their raiders before they send them into a Mythic raid. I wouldn't be surprised to see Team Liquid jumping into Mythic by the end of the day.
Will the third day be when Liquid surges to the front of the pack, or will we see Echo and Method jump into their Mythic clears a bit earlier than expected? I know that I hope to see Instant Dollars continue to be a strong force on the leaderboards.
We'll have to watch along and see what happens! And don't forget, if you tune in you can earn the White Riding Camel mount from Twitch Drops, so it's worth a watch — particularly as the Race to World First heats up.
Please support us on Patreon by subscribing or increasing your Patreon tier. Donate by November 30 so we can keep creating the quality content you enjoy.