Blood Pact: Blackrock 'n rolling on warlock loot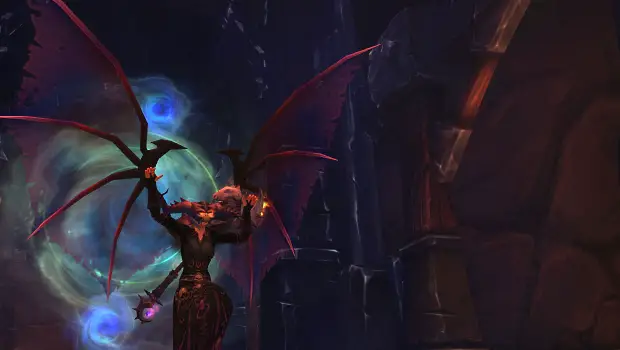 Welcome to Blood Pact, Blizzard Watch's regular column for affliction, demonology, and destruction warlocks. This week, your hostess Megan O'Neill (@_poneria) accepts her soulstone resurrection and rejoins the class column raid … with a loot list.
It's good to be back, masters and minions of the dark arts. Every time I look at the Patreon page, it's a bigger number, and that continues to blow my mind. Thank you all for all your support.
I've kept the name of the column — it's short, it's a classic, it grants us stamina to ward off columnist curses. But like our hunter columnist Adam Koebel has said, it's a new era for class columns. I'm not going to fit an entire class guide into a single article, but I can go into greater detail on specific topics, one at a time.
For now, let's start with something light — a return of the narrative loot list. This one will deal with items from Normal, Heroic, and Mythic modes; I'll consider writing an LFR version later if enough alts are interested.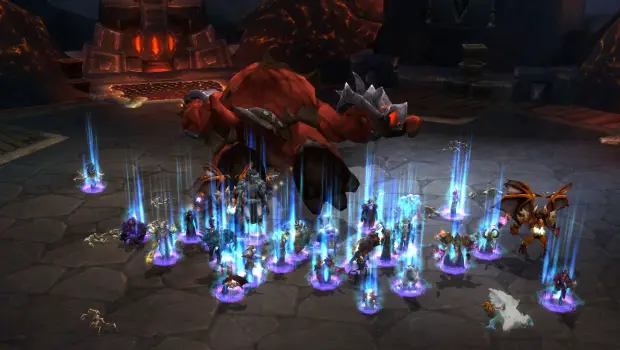 SLAGWORKS
Gruul — Aff'locks and demonologists will have to endure little grueling raid progression to get a shot at a haste/mastery staff or ring, but destruction warlocks want the critical cleats. The Gronncloak can complete many multistrikingly dark blue transmogrification sets. Versatility is a less-loved stat by DPS, so it's fitting that the versatility hood is a mage tier lookalike.
Oregorger — You can get a grip on some haste and mastery if you don't want tier gloves. Destruction warlocks will particularly want to pick-up the crit trinket. Me? I almost want the moving eyeball off-hand for transmog.
The Blast Furnace — All the warlock loot must've been melted down, for only two pieces of loot are here. Maybe you can steal the crit/multistrike bracers from the mages, or better yet, conqueror the tier token for some haste/multistrike legs.
BLACK FORGE
Hans'gar & Franzok
Each reset you'll find down in Slagmill Press
Twin fairytale orcs with footwork finesse.
Kill them together, the loot you shall find
Is just two pieces, one and one combined.
Choose versatile shoulders and you'll look like a priest.
But a mage's tier robe? Over my body, deceased.
Flamebender Ka'graz — This boss has fire puppies that chase you, so run like wildfire so you don't get a burning attempted beheading. The rogues will stop complaining about casters taking daggers for transmog since this one has the same model. Finally, spend a coin on the tier chest if you're burning for some crit and mastery.
Kromog — Heads or tails, you'll probably pick Kromog for a coin roll, for he has both the helm token and a spellsword. I hate to rune it for you, but spoilers this cloak looks exactly like the one off Gruul. But it's cool, you can skip the mage-y hands and take on the mantle of the Best Class.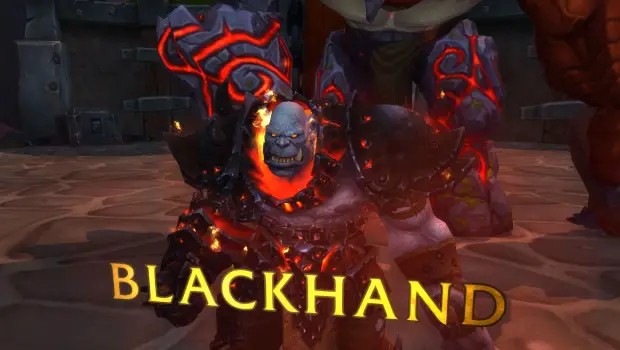 IRON ASSEMBLY
Beastlord Darmac — Perhaps you're seeking a good-looking waistline, or perhaps you just want to be in the loop on good loot. Either way, it's critical to protect your weary feet from striking spears on this fight. Just do me a favor, demonologists? Don't get too power-hungry with all the Molten Core procs on this fight.
Operator Thogar — If a priest steals the shoulder token, don't be wounded too much or you'll start to look like them. I could care less about the bracers — I want the engine-looking companion cube.
Iron Maidens — Marak my words, you're Gar'an-a be disappointed by the loot here unless you're destruction. Yarr, the swordbelt's for fire-flingers, too, but we've got a wee bit of corruption going on still, and that's not count'n when the gloves come off. I just think they missed the chance to joke about an affliction warlock's rotation.
BLACKHAND
The final boss of Blackrock Foundry has his own wing of LFR and four powerful loot options for warlocks. You shouldn't pass this orc up for a coin roll. There's the any–token, which starts a quest to create any tier piece you want. The fel iron stick is a critical piece of gear that you'll need for complete mastery of the meters. I love trinkets that strike up a buff on me multiple times. Even if I can't get all of that, at least I can look like a warlock while looking at loot.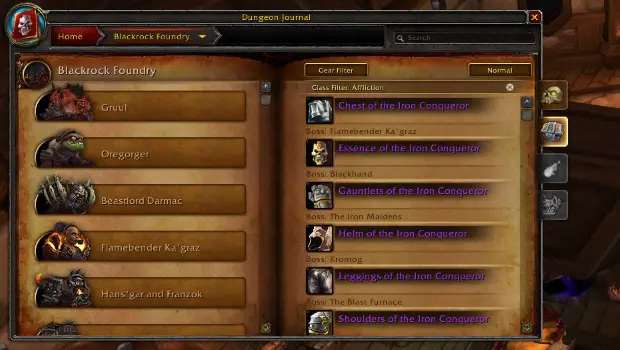 Here are three good gear categories to use three Seals of Tempered Fate on each week.
Your weapon easily contributes 25-30% of your gear's total spellpower, so it's a very important upgrade! Roll on Gruul and Blackhand for a staff, or roll on Flamebender and Kromog for main hands.
Trinkets are the other powerful pieces in your gearing arsenal. The passive stat will be the most of any single piece you own, and the procs are unmatched in power. Everyone will probably want Blackhand's trinket, but roll on Beastlord for haste and Oregorger for crit.
Finally, obtaining 2-piece and 4-piece for tier set bonuses is a high priority for many specs. Pick your favorable 4-piece set and roll on Blackhand for an any-piece token, or on specific bosses for a specific slot: Kromog, Thogar, Flamebender, Iron Maidens, and The Blast Furnace.
It takes more than one to summon! I'm not going to steal Adam's brilliant idea of a mini-Queue at the end of each post — c'mon, we all know I'm too longwinded for that. There will always be patch information, but I'd like to turn reader questions and topic suggestions into whole posts. I'll always have a few drafts brewing, but I'd like to hear what you'd like to see.
I'm also interested in your warlock screenshots. There's only so many transmogs and activities I am willing to do with my own warlock. Send me a UI-less screenshot of your warlock, and maybe you'll see it in a column or two (complete with credit).
Finally, I'd like to expand my PvP library for warlocks, so I can write a little more Blood PvPact without being too terrible. Comment below with your favorite PvP resources, particularly your favorite warlock PvPers! I'm open to streamers and Youtubers alike.
You can comment below or tweet me for now.