Team League coming soon to Heroes of the Storm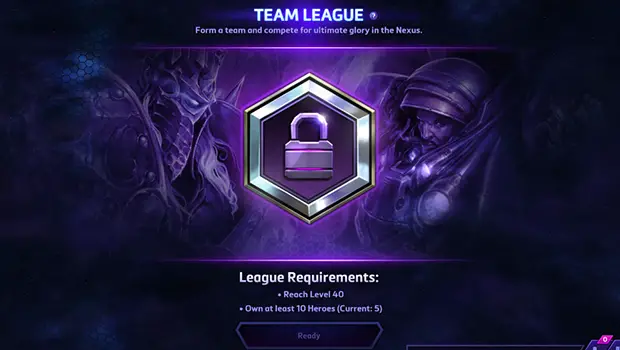 Although Team League is a feature that was announced earlier in the month during the Heroes of the Storm session at PAX East, Blizzard released more in-depth information on how the format will work. Team League rolled out with the beta patch that's live now, so you should be able to check it out next time you log on.
Highlights
Participation in Team League requires at at least rank 40 and a minimum of 10 heroes
You can create or join up to three teams at a time
There can be a maximum of nine players on a team
There must be five players in order to queue into Team League
Rosters persist until members leave or are removed by the leader
The draft mode feature of Team League represents an interesting departure from the solo queue. It operates on a first come, first serve basis. Your team has no set in order in which player makes their hero selection first. A coin toss will decide which team gets to choose first, but the process still operates in a 1-2-2-2-2-1 format. When it's a team's turn to pick, individuals are free to select heroes in the order they prefer.
Team rankings begin at level 50. Hero league rankings and individual match making ranks will have no factor in Team League match making. Instead, your ranking will all be based on how well your team plays. In an upcoming addition that will apply both to Hero and Team League, the number of points you gain or lose in ranked games will fluctuate based on the skill difference between you and your opponents. Extra ranked points (or "Match Points") will help skilled players and teams hit the ranks that they deserve to be at. If you can knock out tougher opponents, you get extra points. Lastly, there is a chance that your matchmaking rating (or your team's) will go at a rate faster than the current rank shows. That would be the "Skill Bonus" that grants you even more ranked points to boost your rank and allow it to line up with your rating. If your team manages to make it to the top and past Rank 1, you'll be entered into a different grouping that ought to be similar to StarCraft 2's Grandmaster League.
You can read more about it here.
Oh, don't forget: Sylvanas is live now, too.