WoW
Jun 17, 2015 1:40 pm CT
Nexus Whelpling Plush and more coming exclusively to SDCC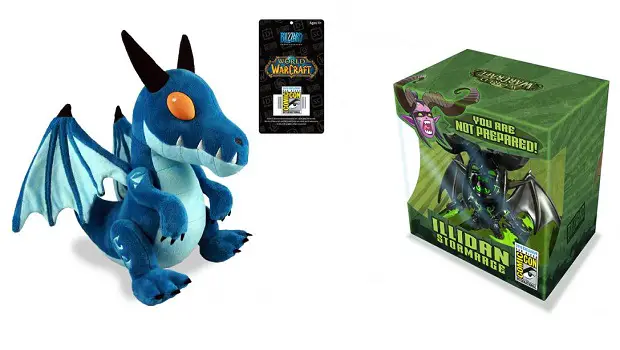 You thought you killed him in the Black Temple, but it turns out Illidan was just demon enough to survive in the Twisting Nether — and now he's back, ready to yell catchphrases at you from atop the furniture of your choice.  Yes, Blizzard's exclusive merchandise for San Diego Comic-Con (coming up this July 9th-12th) has just been unveiled and it includes several creatures from the Warcraft universe that are capable of bringing swift, adorable death to their enemies.  With these items, you'll be able to snuggle a baby dragon or even create your very own March of the Murlocs whenever you please.  The exclusive items available this year are as follows:
Cute but Deadly Shadowform Illidan Figure ($17.99, pictured above)
So angry! So cute! 'You are not prepared' to deal with how awesome-sauce Illidan looks as our new Cute But Deadly figure exclusive for 2015! Shadowform Illidan features an onyx black, semi-transparent body and glow-in-the-dark tattoos.
Nexus Whelpling Plush ($24.99, pictured above)
We were rocking five colors of dragonflight before dragons 'sold out' and went mainstream. Celebrate the heyday of serpentine flight with this exclusive Nexus variant of our upcoming Dragon Whelpling plush series!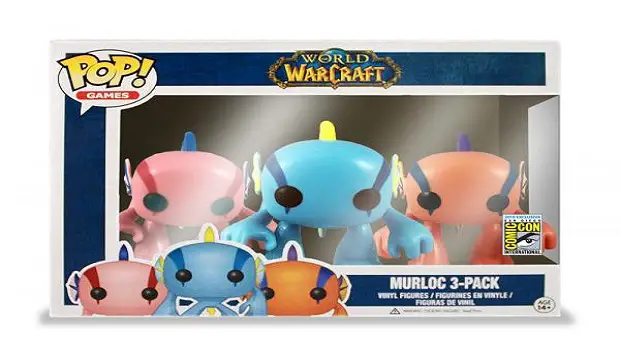 Funko POP! Murloc Vinyl Figures (3 pack) ($29.99, pictured above)
The only thing better than Funko's green Pop! Murloc, is an all-new 3 pack exclusive featuring never-before-seen blue, pink and orange murlocs! Be sure to grab a set now before they swim away forever!
Keep in mind that this merchandise tends to sell out fast, so if you're at SDCC, you'll want to prioritize lining up for these if you'd like to get them. For those of us not hitting up SDCC this year, you'll likely be able to find them on Ebay (though expect to pay at least twice the price). Last year, some of the exclusives later turned up on the Blizzard Gear Store in different colors, like the Faerie Dragon plush, which was originally an all-blue SDCC exclusive Nether Faerie Dragon plush. Fortunately, we already know that more colors of the whelpling will show up later, but if you have your heart set on this one, be prepared to line up.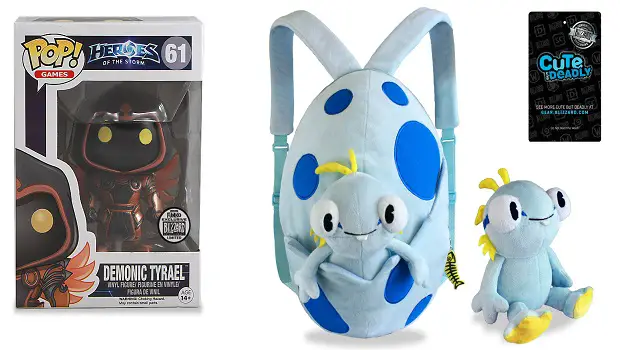 In addition to the SDCC exclusives, Blizzard has also revealed two more goodies that will be available for purchase to those attending conventions where Blizzard is present:
Funko POP! Demonic Tyrael Figure (pictured above)
The eternal struggle between angels and demons is fully represented in this convention exclusive Funko POP! Demonic Tyrael. Be sure to grab this variant before he disappears!
Cute but Deadly Murloc Egg Backpack (pictured above)
Take home the cutest ever Murloc Egg Backpack that ever was! This soft plush egg backpack and Cute but Deadly plushie is for every Murloc lover!
I don't know about you, but a murloc backpack to store my murloc vinyl figures sounds like the perfect way to always have an on-the-go surprise murloc attack at the ready.  I'll take ten, please!