Brian Holinka talks PVP in Legion
Updated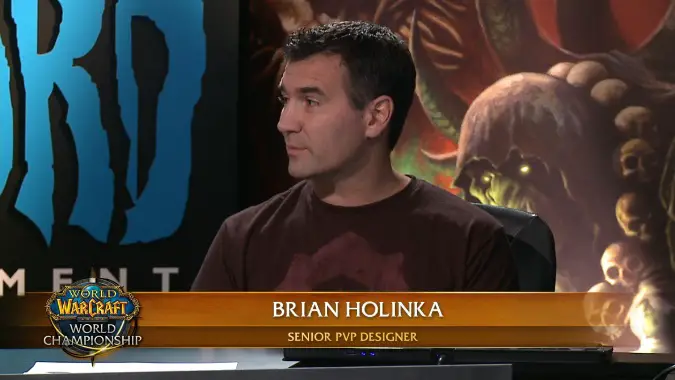 At this weekend's North American Online Arena Qualifiers, deciding which arena teams would be heading to compete at BlizzCon, Senior PVP Designer Brian Holinka popped in between matches to talk about PVP in the upcoming Legion expansion. Though we know PVP is changing in a big way in the expansion, there's still a lot we don't know — but Holinka answered a lot of questions, so if you're eager to find out how PVP will be working, you'll want to watch the stream or check out the highlights below.
For those who want to see the interview itself, head over to Twitch: Holinka shows up at about 2:01 on the stream, and Legion discussion starts at about 2:08.  the interview is now up on YouTube, and you can watch it in full in the embed below.
Here are the Legion highlights that you're all here for:
When they say there's not going to be any PVP gear in Legion, they mean that there won't be gear specifically made for PVP with Resilience, PVP power, or dual item level. Players shouldn't feel like they have to have specific gear in order to PVP. "Really, what we're saying there is 'gear is gear,'" explains Holinka. "In PVP we want that gear to mean a lot less."
In Legion, your stats in PVP won't be based on your gear but your specialization. Your ilvl will matter (higher ilvls will always have higher stats), but the PVP team will fine tune stats — so if one specialization isn't doing well in PVP, their stats could be increased to compensate. This gives the team tremendous tuning power to balance PVP without affecting PVE at all. "This may be the biggest change to WoW PVP since we actually introduced arenas."
If there's not PVP-specific gear, will PVPers have to do PVE to get gear? Though the devs want players to feel stronger as they acquire new gear, the differences in power based on ilvl in PVP will be much smaller than they have been before. There will be gear coming from PVP, but it may not be as easy to get as it is today — and wherever you acquire gear you can jump into PVP and feel powerful.
Gear's the progression system in PVP now — but in Legion it will be about talents instead. You used to be able to enchant your gear, gem your gear, use trinkets, pick set bonuses to use… but none of these will be available in Legion. Instead, you'll customize your character through talent selection.
But you lose your PVP talents when you increase your Prestige. Though Prestige rewards will be cosmetic — new looks for your artifact or unique mounts — it was felt these things needed a cost.
Some effects which are currently trinkets will be talents in Legion, like Gladiator's Medallion.
Though there's still a lot we don't know, this interview at least fills in some gaps on the new PVP system.