BlizzCon giveaway: Enter to win 1 of 100 virtual tickets and goody bags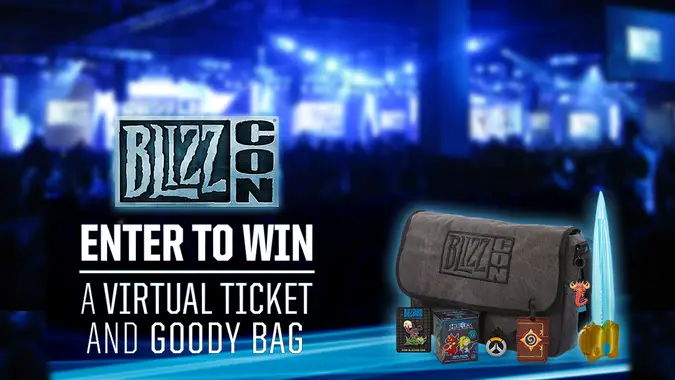 BlizzCon is giving away 100 free BlizzCon virtual tickets and accompanying goody bags. You can enter by submitting your name and email on the contest page, and there are ways to gain additional entries for a total of 21. Liking each of the Blizzard Entertainment and assorted gaming Facebook pages will grant you a single entry each (7 total), as well as following those same Twitter accounts (another 7). Sharing the contest link on Facebook and Twitter also offers another 3 entries each (for 6 total).
The goody bags this year are quite exciting. We posted an unboxing reveal by Michele Morrow recently, debuting the BlizzCon special edition messenger bag. The bag is quite roomy and nice quality, and detailing each of Blizzard's games in logos on the front. The usual crew of fun toys and figurines were also included inside the messenger bag. For the first time ever, they are available to Virtual Ticket holders, no longer confined to in-person attendees.
The Virtual Ticket is also a cool thing to have. Not only do you get all the cool digital gifts (Murkidan pet in World of Warcraft and assorted digital goodies in Hearthstone/Diablo/Starcraft), but you get the digital streams of the panels, contests, interviews, and the opening and closing ceremonies in 720p definition. These are available for two weeks after the convention as well, so you don't have to worry about watching them live or even the night of. BlizzCon Virtual Ticket is also available on the go via the stream in the BlizzCon mobile app.
You have until September 18th to enter and the winners will be announced on September 21st.