Nova and Illidan are the first Heroes of the Storm action figures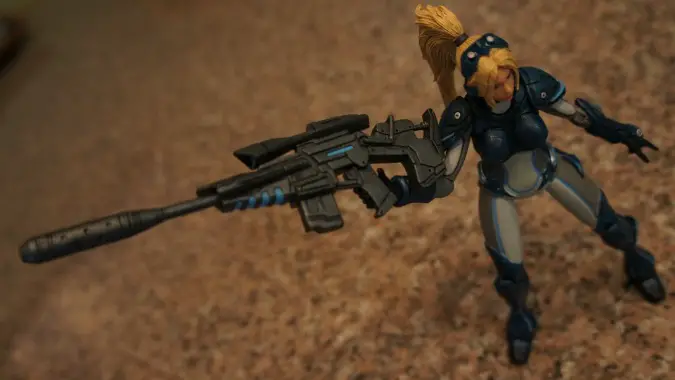 If you were looking for new desk decor, you're in luck because NECA has just released the first two Heroes of the Storm action figures. Illidan and Nova can now be found in the Blizzard Gear Store for $21.99 each, with Stitches, Arthas, and Tyrael coming soon. We received figures from NECA to check out, and were pleased by the level of detail and articulation they had — particularly in the Nova figure, which looks like it came straight out of the cinematic trailer.
So should you add them to your collection? Read on for our impressions and some out of the box images.
Besides the figure itself, each of these comes packaged with a few accessories: Illidan has his warglaives while Nova comes with a rifle and an extra hand model, which can be swapped in so she can make her trademark point and shoot gesture. For both, their ponytails are detached in the package, but pop in easily enough (and, for those of you who are wondering, no, Nova and Illidan's hair are not interchangeable). Illidan measures at just over 7″ while Nova is slightly smaller at about 6″. Each figure is articulated at the ankles, knees, hips, torso (which can twist around fully, making for some very odd poses), shoulders, elbows, wrists, head, and, of course, that ponytail.
[metaslider id=21456]
The detail on Illidan and Nova is higher than your average action figure, and though not quite so stunning as Blizzard's Sideshow Collectables statues they look very good for this price point. The details are sharp and the paint is crisp, unlike some low-end figures that can have slightly sloppy paint jobs — just look at Illidan's tattoos (painted in two shades of green) or the sharp lines of Nova's armor as examples. The articulation on each also helps you pose them just the way you want, though Nova's smaller feet and bulky rifle gives her a tendency to be unbalanced.
If there's any complaint to be made about these figures, it's about Illidan's warglaives. Their single-tone dark green color doesn't impress (especially not compared to the metallic sheen of the paint used for his tattoos) and they have a tendency to fall out of his hands. Comparably, Nova's rifle has a peg that slots into her palm and, once you've seated it properly, is unlikely to come out accidentally. Still, though, the warglaives have good detailing, with ornate lines etched into the blade and even a handgrip molded to look like it's wrapped in leather — a nice detail that you're unlikely to notice most of the time.
If you're fans of these characters, these action figures are solid recreations of their Heroes of the Storm counterparts — and, we think, good additions to your gaming room or bookshelf.