Hallow's End invades Heroes of the Storm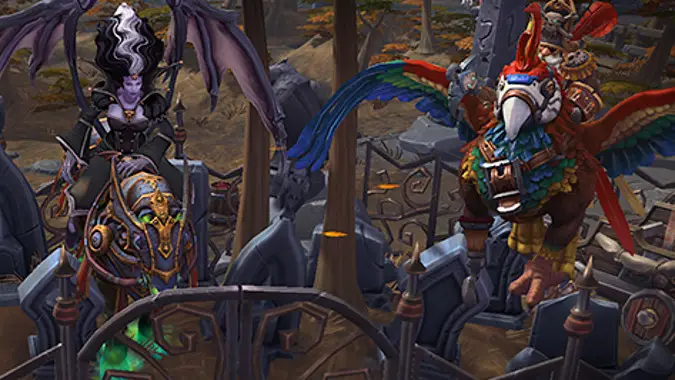 Hallow's End, Blizzard's Halloween-inspired World of Warcraft holiday, is making its presence known in Heroes of the Storm with a week-long Hallow's End event starting October 27. What does this entail? Well, quite a bit — a new mount, a new skin, and even a Hallow's End themed bundle for you to pick up.
Taking a look at what's being offered for this event, it's a mix of some old familiar faces and some new. I'll admit, I wish they'd actually come up with a Headless Horseman hero to go along with the Mount — maybe a skin for Arthas or Leoric if not an all new hero but I would have preferred an all new one. The HH is visually distinctive and you could have done cool stuff with him and his mount. Still, it's nice just for the bonus XP and portrait, and the Ultimate Bundle has me interested.
The thunderous sounds of the Headless Horseman's approach grow louder by the day. The Heroes of the Storm Hallow's End event is nearly upon us!
Treats, no Trick!
New Mount and Skin

Headless Horseman's Charger Mount
Buccaneer Falstad Skin

Week-long Bonus XP Event

Starting at 10:00 a.m. PDT on October 27 and ending at 10:00 a.m. PST on November 3, games played that award XP will grant an additional 50% in all regions.

Jack-O'-Lantern Portrait

Play 25 games during the Hallow's End event to earn the new "Jack-O'-Lantern" portrait.
This event will persist until November 17.
Event progress can be tracked through an Event Quest in your quest log.
New Bundles!
Hallow's End Ultimate Bundle – $53.04 USD

Kerrigan
Countess Kerrigan Skin
Abathur
Skelethur Abathur Skin
Falstad
Buccaneer Falstad Skin
Headless Horseman's Charger Mount
Hallow's End Bundle – $21.35 USD

Falstad
Buccaneer Falstad Skin
Headless Horseman's Charger Mount
Be sure to take advantage of these bundles while they're available, and band together with a few friends to make the most of this week's Bonus XP. Good luck, and we'll see you in the Nexus!