BlizzCon 2015: New World of Warcraft Endgame System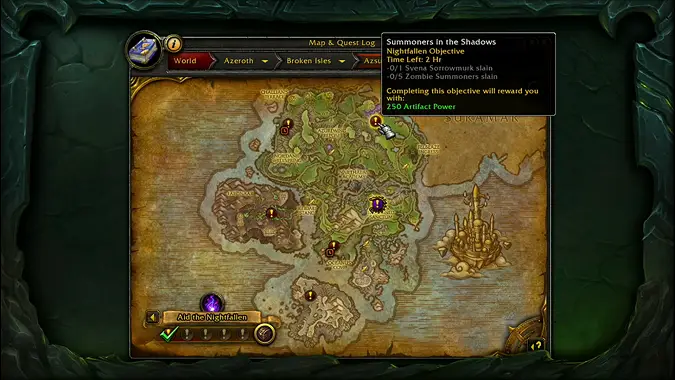 Watching the Legion systems presentation by Ion Hazzikostas, I'm struck by a simple realization: the new outdoor endgame system for Legion is essentially the Diablo 3 bounty system merged with the Garrison Follower mission table, if you were the one doing those missions instead of your followers. The specific goal is to keep people from feeling compelled to try and do everything while giving them the ability to do practically everything.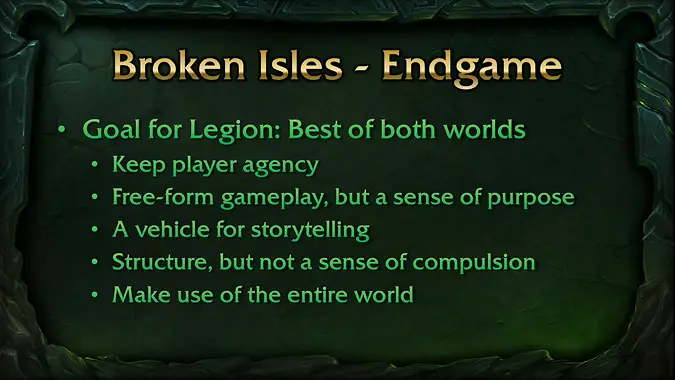 If you look at the map header image, what's amazing about this is that it takes the old Mists of Pandaria system but removes the 'do these same quests every day to unlock content' aspect. These various objectives unlock randomly, they're not always available, and they hang around for a while if you don't get around to them every day. Instead of trying to hit your daily, these aren't dailies — you're allowed to miss a day or two and not get penalized for it the way the Garrison's Follower Missions often seem to. Even world bosses will be folded into this system, spawning at random intervals for players to encounter.
Instead of going to a specific place to do daily quests to earn reputation, emissaries come to you, and offer you various quests that you can choose to do in order to earn that reputation. These quests are closer to Hearthstone or Heroes of the Storm quests in terms of how they work. These open world objective choices are so reminiscent of Diablo 3's bounty system that I don't think you can miss it, and combined with the open world scaling of Legion it feels like a very good move forward.