WoW
Nov 16, 2015 3:00 pm CT
Work on getting your moose mount with #FriendshipMoose
Updated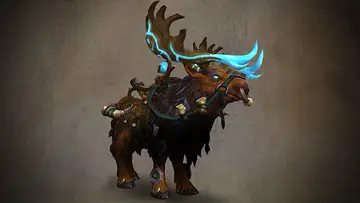 Many have complained about locking WoW's much-wished-for moose mount, the Grove Warden, behind Heroic Archimonde — though perhaps there were an equal number of complaints when it was assumed to be a store mount. Still, many players aren't in guilds or groups capable of tackling Heroic Archimonde (despite patch 6.2.3's addition of ilvl upgrades to improve everyone's gear), leaving a lot of hopeful players left out on the moose excitement.
So what's the answer? It may be #FriendshipMoose, started by @thomicks.
#FriendshipMoose is a community-driven effort to group better-geared players with lesser-geared hopefuls to tackle Archimonde and get a Grove Warden of their own. This won't be an effort-free endeavor, as you'll need to gear up and be able to take your character successfully through the Heroic Archimonde encounter — but, still, with teamwork and some effort, it'll be possible to get your very own moose mount.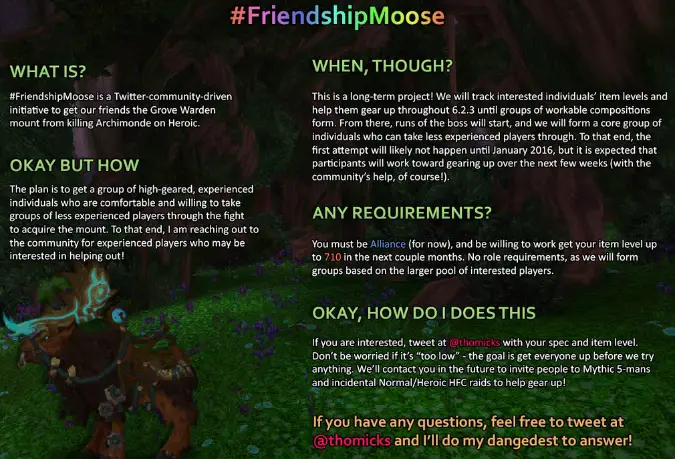 There are, of course, some caveats. Right now only North American Alliance groups are being organized and everyone needs to work up to an ilvl of 710 in order to handle Heroic mode. However, there's no ilvl minimum to sign up and no class or role restrictions — so if you're interested and willing to do runs to gear yourself up, sign up! Runs probably won't start until early next year, as #FriendshipMoose works to gear players up and organize those who have signed up into doable groups. However, when raiding does kick off, it will happen on varying days of the week so as many players as possible get.
All interested parties can sign up now and start working on it. If you're interested, fill out this form to sign up (yes, instead of tweeting at Thom directly).
Update: #FriendshipMoose has leveled up! The initiative now has its own website — friendshipmoose.com, of course — and organizers are putting together groups for North American and European realms, both Horde and Alliance.
We're cheering you on, Team #FriendshipMoose!