Legion Beta: New datamining shows off class spells, talents, and more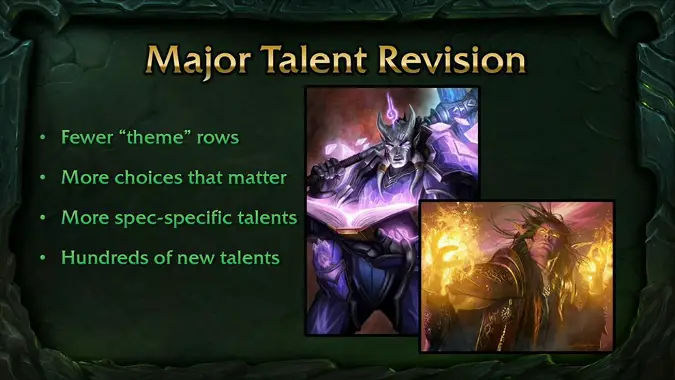 Hot off the heels of our first set of datamined Legion info, we've got more news from the Legion beta files. Tonight we have string data about spells, talents, professions, battle pets, hunter pets, mounts, and more, courtesy of Wowhead. While you need to take datamining with a grain of salt — anything we see here may or may not make it into the final game, and some of the information may just be a placeholder — there's a ton of new information here… and if you want to know what's coming next for your class or spec, it's worth taking a look. However, we do advise not panicking if you see something amiss — always remember that this is datamined info from beta files and could change at any time.
Now, for those of you who want to be in the know, let's take a look at what we've got.
The class, skill, and talent info is simply too much to summarize. Take a look at all datamined abilities, talents, and glyphs for Death Knights, Druids, Hunters, Mages, Monks, Paladins, Priests, Rogues, Shaman, Warlocks, and Warriors if you want the whole story on your class of choice. And while we knew that major glyphs were going away, this is the first look we've had at the new world of glyphs with lists of Legion's minor glyphs (and, remember, you'll be able to slot as many of them as you'd like). New and much changed classes will find a lot of interest here — for example, we have our first look at the Outlaw Rogue's skillset in depth.
Still missing, however, are Demon Hunters — possibly because the class isn't yet complete. The demo we saw at BlizzCon only included a single talent spec, suggesting that the class is still a work in progress.
Aside from the class news, professions, Hunter pets, battle pets, mounts, and more are potentially seeing changes. Most notable here are instant cast times listed for most profession recipes and mounts — which may or may not be intentional. We also have a handful of new mounts, and though we don't have images of them yet, you can use your imagination:
Enchanted Chicken
Demonsaber
Prestigious War Steed
Spirit of Eche'ro
Felsaber
Prestigious War Wolf
Personally, I'm looking forward to the Enchanted Chicken, in whatever form it may take.