Tracer coming to Heroes of the Storm in April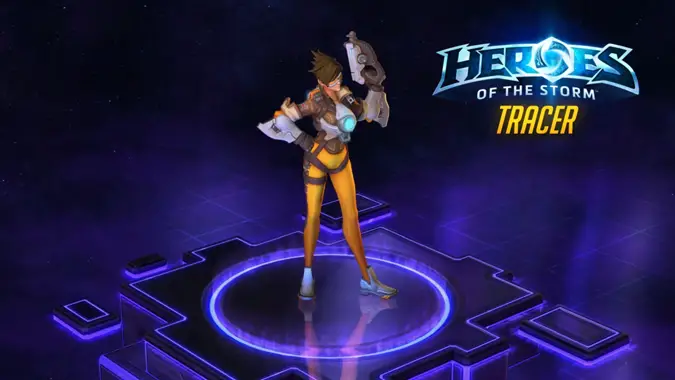 According to the latest digital issue of Game Informer, Overwatch hero Tracer will be joining the Heroes of the Storm lineup in April. As a mobile ranged assassin, Tracer comes with a set of abilities that are nearly identical to her signature blinking and time-travel hijinks in Overwatch, including her signature pulse-bomb attack as her ultimate ability. Unlike other heroes, Tracer can start using that ultimate ability at level one — and instead of picking up her ult at level 10, she'll be able to refine her pulse bomb with increased radius and a slow effect, a boost in single-target damage, or extended range and easier charging.
What's interesting about this is that Tracer is currently one of of the perks for ordering the Origins or Collector's editions of Overwatch. The game isn't going to be officially released until May 24, and the article doesn't mention when Tracer is obtained. It's possible that we might just start seeing all those bonuses from Overwatch's special editions — like the adorable Baby Winston World of Warcraft pet — a little earlier than expected, although that definitely hasn't been confirmed.
In addition, the article also mentions that Blizzard is planning on bringing Arena mode online sometime this year, although exact dates are still up in the air. Shown at BlizzCon, Arena mode is a fast-paced version of Heroes that is meant to feel a little like Hearthstone's popular Tavern Brawls — a playground for crazy game modes and off-the-wall play not seen in regular Heroes of the Storm matches. Check out the full post on reddit for details and shots of the complete article.