Vanilla Diablo 3 may be going free to play
Updated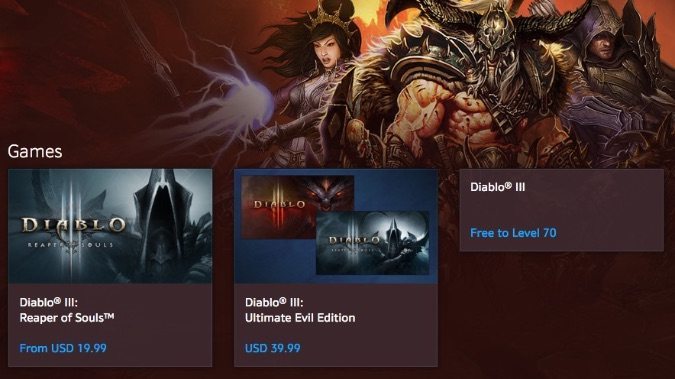 Diablo 3 has always had a starter edition that let you get to level 12 before shelling out any cash, but now it looks like the game may be free to play up to level 70. Based on several changes to Battle.net's Diablo store this afternoon it's pretty clear that something happening… but it's harder to say what.
First, Diablo 3 was listed as "free to level 70," though the clicking the link sent you to a 404 error. Next, both the "free to level 70" and the option to buy Diablo 3 vanished entirely, while the Reaper of Souls expansion remained. And as of this writing, vanilla Diablo 3 is back in the store and Reaper of Souls has had a price drop from $39.99 to $19.99.
Update: And now? The Diablo Twitter account says that this was a "display bug." That's… not what we would call a bug, but if that's how you want to play it, Diablo.
At this point, we're getting dizzy keeping track of it, but let's consider what this "bug" may mean for the game. First up, while Diablo 3 disappearing from the store could be a display error of some kind, the free to play text seemed much too clearly written and neatly positioned on the page to be an accident. "Free to Level 70" doesn't just write itself and appear on a webpage — or at least that's what a decade of writing and publishing online tells us.
So just what is Blizzard doing here? That text certainly makes us suspect that free Diablo 3 may be on its way, even if Blizzard didn't intend to release it right now.
Currently, both Diablo 3 and Reaper of Souls are available in the Battle.net store, with Reaper of Souls still at its reduced price of $19.99. The disappearance of Diablo 3 combined with the appearance of "free to level 70," strongly makes us suspect changes are on the way. Could Diablo take a lesson from World of Warcraft, bundling expansions with the base game? (If you weren't aware, when you buy World of Warcraft you get all expansions except Warlords of Draenor.)
And if you want to bounce off of that idea, does this mean another Diablo expansion is on its way? Blizzard's been hiring art staff for what's listed on their website as an unannounced Diablo project — and though the first job opening appeared in August, we still don't know what they're working on. We're well into tinfoil hat territory here, we're definitely keen on the idea of more Diablo.
Until Blizzard has something official, all we can do is speculate… but we have a few facts to work with. Right now in game the original starter edition — up to level 12 — is all that players who don't own Diablo 3 can access. But considering the website text, it looks like they may soon be able to level a lot farther than that, though under which restrictions are anyone's guess: right now starter edition players can't game with those who own the full edition.
Level 70 is the max level for Reaper of Souls rather than vanilla Diablo 3, and since Reaper of Souls is still on sale this suggests free players could level to 70 without being able to access newer Reaper of Souls features like the Crusader class or Act 5.
But what's Blizzard really doing? We'll keep our eyes peeled to find out.