Overwatch loot boxes now available for cash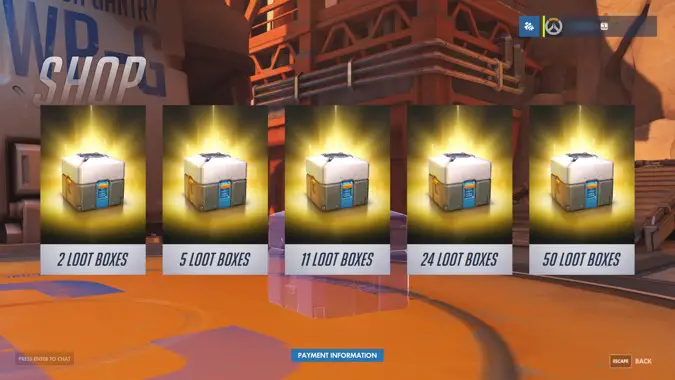 Ah, the infamous Overwatch loot boxes. You want 'em; Blizzard's got 'em. Inside these boxes you'll find a random assortment of cosmetic items but there's only one most of us are looking for: character skins. But there are hundreds of items you might win from a loot box, and the chance of getting what you want makes these things absolute RNG horrors.
You can pick up loot boxes as you play, earning them as you level, but it's a slow way to collect all those sweet rewards. So now that the game is live, loot boxes can be yours if you're willing to fork over your credit card. That's right: loot boxes are now for sale.
If you'd like to speed up your cosmetic — yes, all items in Overwatch's loot boxes are cosmetic only — reward acquisition, here's what you can expect to spend:
$1.99 for 2 boxes
$4.99 for 5 boxes
$9.99 fo 11 boxes
$19.99 for 24 boxes
$39.99 for 50 boxes
For PC, you can buy boxes online through the Battle.net store, but on console you'll want to go through the game to buy for your platform. Just be warned: RNG very much applies. There are over 60 character-specific items per hero, plus player icons and sprays that can be used by anyone. That means that there's a lot of stuff that could fill the four slots in that loot box —and getting exactly what you want may not happen, no matter how many boxes you buy.
Our own Matticus picked up pack of 50 loot boxes, and though he picked up plenty of skins, he didn't get the hockey Lucio he was after. Here are the skins 50 boxes got him:
Lucio: Ribbit (Legendary)
D.Va: Lemon-Lime
Genji: Azurite, Ochre
Hanzo: Midori
Junkrat: Irradiated
McCree: Ebony, Wheat
Mei: Persimmon
Mercy: Mist
Pharah: Emerald, Raptorian (Legendary)
Reaper: Royal
Reinhardt:
Roadhog: Sand
76: Jet, Smoke, Golden
Symmetra: Technomancer
Torb: Bla
Tracer:  Punk (Legendary), Ultraviolet (Legendary), T. Racer (Legendary)
Widow:  Rose
Winston: Forest
Zarya: Goldenrod, Raiga
Zenyetta: Air, Earth
Of course, on top of that he also got plenty of other miscellaneous loot, including credits which are awarded randomly or when a loot box contains an item you already have. Collect enough credits and you can buy the skins you want, but expect to be collecting for a while: the rarest skins cost 1,000 credits each.
Happy hunting, gamers!