Medivh and ranked play reworks arrive with latest Heroes rotation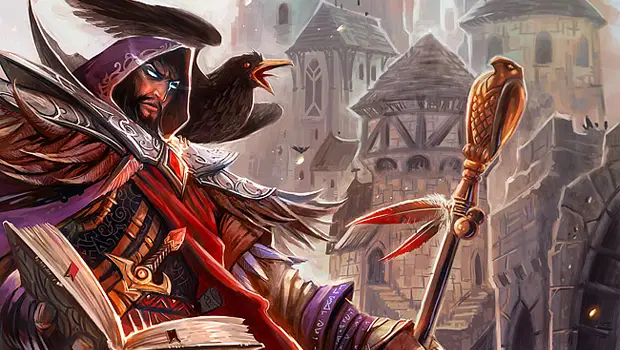 Whether you loved or hated Medivh in the Warcraft movie, today he's finally arriving in the Nexus. This Specialist helps the team by controlling the flow of battle, and we suspect a good Medivh with a coordinated team will likely be able to turn the tide, but without that coordination Medivh is likely an easy kill. We'll have to see how his first day in the Nexus goes.
Also arriving today is a rework of ranked play that officially kicks off Heroes' Season 1. That's right: The game's been out for a year but we're just now seeing our first season. However, moving forward seasons will be pretty zippy — Blizzard has already announced Season 2 will start in late August.
Now let's dive right into what's on deck with this week's rotation.
Today it's Joe, possibly the world's biggest Rehgar fan, who graces us with a snippet of verse about his favorite hero of the week:
Rehgar, he's our hero, going to take your health totals down to zero.

In the jungle, in the lane, he's an orc wolf, it's insane!

Rehgar, he's our hero, going to take your health totals down to zero.

Gonna help his team stay alive, champion of the arena *Blood Lust Noise*
I think what he's saying is play Rehgar, folks.
Assassins
Falstad
Greymane (unlocked at player level 5)
Mitch: Play Greymane because he's the best.
Liz: That's uncharacteristically unenthusiastic of you.
Illidan (unlocked at player level 12)
Kerrigan
Specialists
Nazeebo
Anna: Nazeebo is an oddity because he's got a fantastic winrate in every tallied play mode… except pro tournaments. Because the meta is currently so focused on stuns and burst, little zeebo just doesn't fit in. However, because other modes lack that shotcalling coordination, his witchdoctory shenanigans can do pretty well. He does best when he can stand back and throw some spiders into the middle of things. Just remember you can cancel your zombie wall by hitting your hotkey a second time.
Support
Li Li
Anna: Li li isn't a favorite in more competitive modes but she's a good pick when you're just starting out. Her healing is easy to use, and her serpent gives quite a boost to an attacker. She's quite fragile though, and doesn't have much in the way of escape, so you'll have to be very careful of your positioning and aware of when you're pushing too far.
Rehgar (unlocked at player level 7)
Warriors
Dehaka (unlocked at player level 15)
Mitch: Give Dehaka a try in AI matches to see if he's your thing, but don't expect him to be.
ETC
Sonya
Anna: Sonya and her oooAAAAHHHH are pretty popular, due to decent sustain and wave clear. Beware of stuns interrupting your whirlwind healing. I've been playing with a build centered around Seismic Slam damage recently, which really increases burst potential. It's pretty fun, though it burns through rage extremely quickly.
Alex: SONYA SMASH.
That's it for this week's rotation, folks. We hope to catch up with you in the Nexus checking out the ranked play improvements — and Medivh. Is he a must-buy or a flop? I'd love to hear what you think about today's newbie.