Gamescom preview of Heroes' Zarya and Alarak gameplay and talents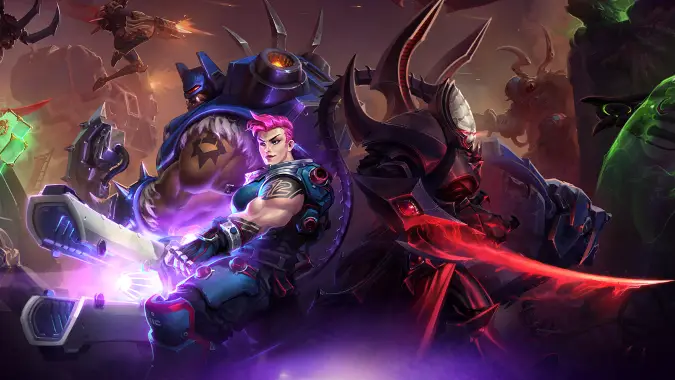 Heroes of the Storm streamer Grubby is at Gamescom this week and has already given us a sneak peek at Valla's upcoming rework. He's also created video previews playing games of upcoming heroes Zarya and Alarak, showing off their play styles and going through their talents as part of the announced Machines of War update.
First up is Overwatch's support tank Zarya. Her basic attack is a steady stream that has splash damage. Her Q is a grenade with 4 charges and 8 seconds of recharge time, that she can launch with splash damage. Her W is a shield which charges her basic attack when it absorbs damage as part of her trait. Her E shields an ally, and also charges her basic attack. And her Ultimate drops a gravity bomb that either pulls all enemies towards it, or pushes all enemies away — depending on which one you pick.
The reason she's considered support is, of course, her ability to shield allies. On top of that, her shield can be talented to cleanse allies of debuffs as well. She can even talent her own shield to grant her a spell barrier when it expires for extra protection, as Grubby does in his game. You can see a full list of her talents transcribed from the stream on this reddit thread.
Check out his run through with Zarya on the new Starcraft-themed Braxis Holdout map:
Next up, Grubby played the melee Assassin Alarak on the floor of the con, this time on Warhead Junction map. Alarak's trait does bonus damage to heroes, his Q does damage and silences, and his W pulls a target towards him. His E throws lightning damaging all in its path and returns health to him if it hits a hero. Of his two ultimates, one protects him from damage and damages his opponents if struck, and the other causes him to charge forward, damaging all in his path.
His talents have two interesting design mechanics. One is that many of them come at the cost of his trait. That is, if you take them, they reduce the bonus damage he does to other heroes. Not all of them do this, so you can choose which ones are worth it for you. The other interesting design choice here is that at level 20, Alarak can pick up the other ultimate ability he skipped at level 10 and use both — it maps to his trait key (D). His full trait list is transcribed in this thread.
Watch Grubby explore Alarak in this playthrough video:
No word yet on when the new heroes and maps will roll out, but we expect them over the next two months.
Save
Save
Save