Free hero in the next Heroes patch plus Alarak & Zarya release dates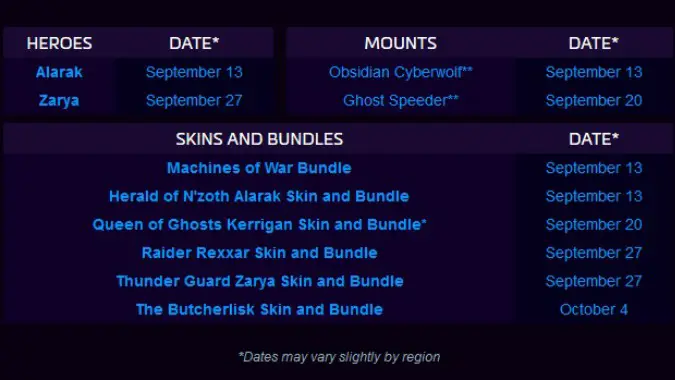 More Heroes of the Storm news is rolling out of Gamescom since this week's StarCraft-themed Machines of War announcement. First, in an interview on the Icy Veins forums, Production Designer Kaéo Milker and Senior Game Designer Travis McGeathy mentioned that every player will be getting a free hero with the next patch!
The exact quote is:
"In the next patch, you'll be getting a free hero, whether you're a new or current player. You'll essentially be able to choose between three heroes and if you have those three, you'll be able to choose from another three. If you own every hero, you'll get gold instead."
When that patch will be is not entirely clear, but our best guess is no later than Tuesday, September 13th. That's the launch date for Machines of War and when the two new maps, Warhead Junction and Braxis Holdout, will be introduced — as well as the melee Assassin Alarak. New bundles will be rolled out too, but you'll have to wait another week for that Queen of Ghosts Kerrigan bundle.
Zarya will be introduced just two weeks later on Tuesday, September 27th along with her Thunder Guard skin and bundle. A two week gap is awfully short between hero rollouts, but there will be a five week gap between Auriel and Alarak. The Raider Rexxar skin will also be available at this time, but I hope Blizzard isn't counting on high sales for that given Rexxar is the least played champion according to hotslog.com only beaten by Cho'Gall.
If you can't wait for all this new hero goodness, the Heroes PTR is going up on August 29th. Any real money purchases you make on the test server will carry over to your live account.
Save