Hearthstone's October card back is definitely Not a Lie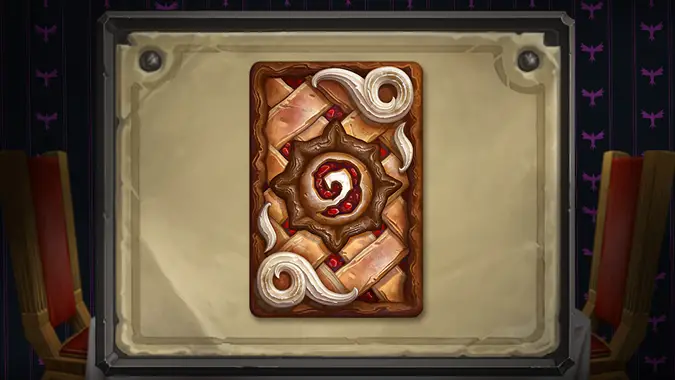 Hearthstone's October card back has been announced! We may have been expecting some kind of spooky Halloween-themed card back, but this month's selection is a little different, offering a piping hot piece of pie for your collection. Baked up fresh for your ranking efforts, The Pie is Not a Lie card back features a latticework crust over a delectable berry filling, topped off with a few artful whipped cream swirls. You don't need any culinary skills or baking expertise to earn the new card back — you just need to hit Rank 20 before the month is over.
You can pick up Rank 20 in either Standard or Wild mode — your highest earned rank in either one will count for the card back. As for hitting Rank 20, that's a piece of cake — or pie, in this instance! Just play the game, earn your stars, and progress up the ranks. You won't lose any stars under Rank 20, so all you have to do is play (and win) a few games here and there over the course of the month, and you'll hit Rank 20 soon enough. If you want to keep playing after you hit Rank 20, you can earn yourself some bonus stars as well.
The further you move up the Ranked Play ladder, the more bonus stars you'll earn — one star per rank. And any bonus stars you earn will roll over to the following month, getting you closer to Rank 20 as soon as next season starts for whatever card back happens to roll out in November. Speaking of which — if you earned enough bonus stars last month to hit Rank 20 automatically this month, don't forget you still have to log in to qualify for the Pie is Not a Lie card back. This delicious card back will be rewarded to players in their Ranked Play reward chest at the end of October.
And if you missed the announcement last week, there's a new hero in town. For more details, check out our how-to on the details of obtaining Tyrande Whisperwind through the brand-new Twitch Prime feature.