First Look at Mean Streets of Gadgetzan
Click here for more photos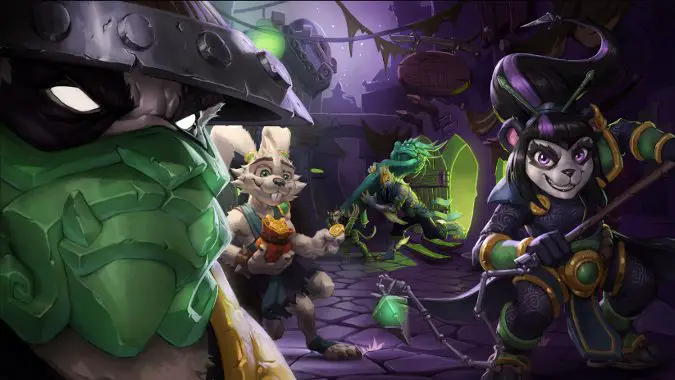 There's been some big news out of BlizzCon 2016 this year from the Hearthstone team! Mean Streets of Gadgetzan (MSG) was teased in the recent Gadgetzan Gazette stories.
Here is a quick overview of the Mean Streets of Gadgetzan:
Hearthstone's fourth expansion
132 new cards
Available December
Special 50-pack bundle available for pre-purchase for a one-time price of $49.99
Aside from the card reveals, the biggest theme about this expansion is the introduction of 9 new tri-class cards such as the Lotus Agents. There are three major crime families running Gadgetzan: the Grimy Goons (Hunter, Paladin, Warrior), the Jade Lotus (Druid, Rogue, Shaman), and the Kabal (Mage, Priest, Warlock). You can check out a match to see some of the new cards in action.
The Hearthstone demo area at BlizzCon featured a brawl mode where players could use pre-made decks from the three crime families. I ended up with a Priest Kabal deck and my opponent wound up with a Goons Paladin deck. He jumped out to a quick lead and established board control early. A well-timed Dragonfire Potion did allow me to wipe the board. I had to play a much longer control game because I pulled Kazakus. I created a 10 mana card which dealt 6 damage to all minions on the board after transforming all minions to 1/1 Sheep. It certainly looks like you'll have to play a little more cautious against Priest decks due to the added tools they're receiving this expansion.
I'll have more in-depth thoughts on the revealed cards later, but my gut reactions are the Priest players are going to on the rise with cards like Drakonid Operative, Kabal Talonpriest, and Dragonfire Potion. As much as I dislike Murlocs, Finja could well be a staple in upcoming Murloc decks. Other notable cards include Kooky Chemist, Manic Soulcaster, and Second-Rate Bruiser.
By the way, check out this neat design story from Ben Brode regarding the iteration and creation of Patches the Pirate below.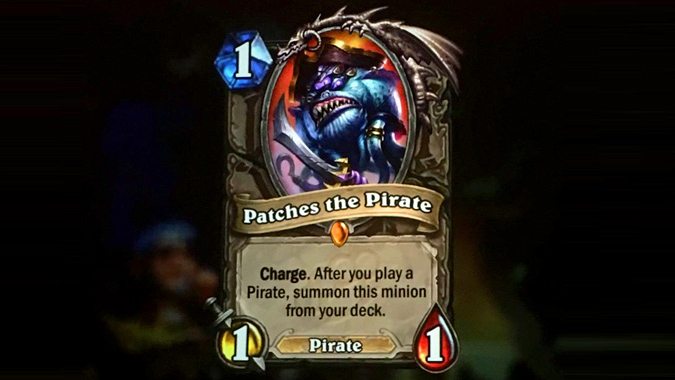 Story time!
Once upon a time this card was 'Dragon Whelp' in Blackrock Mountain. Same cool trigger, but it didn't have Charge, and wasn't Legendary. It meant that the first dragon you played always came with two 1/1 Whelps. The fact that Faerie Dragon is a Dragon (in Hearthstone) made this a little weird for us. We also wanted Dragons to (in general) be high-cost cards (because of the "if you're holding a dragon" trigger, and because we wanted Priest to have the only 1-Cost Dragon), so we booted the card to the next set and made a note to try it as a Legendary minion (so you'd only get a single 1/1.)
I think we briefly considered making it a Murloc, because it fit well with their swarm-like gameplay, but for some reason it felt the most fun as a Pirate. Once we made it Legendary, we tried it as a 2/1 minion, and then eventually it became a 1/1 with Charge.
We had a ton of fun playtesting the card in TGT, but at the last second we decided that in combination with One-Eyed Cheat, the resulting gameplay was not as fun as we would have liked (an un-attackable 4 damage every turn). We made the call to rip it out, but the art on the card was part of the cinematic for The Grand Tournament (Pirates riding paaaarrots!!), so we swapped the art on Skycap'n Kragg with another pirate in the set (the 4/6 Charrrrge Pirate) and cut the offending card.
We still loved the design, though, and it came back in Whispers of the Old Gods as N'Zoth's First Mate. You'll notice it's still a 1-mana 1/1 Flying Pirate, but themed for that expansion. Once again, the design was cut, but I don't remember why this time. We tried it as a warrior-only card during this timeframe as well.
Finally, the card reappeared in the Mean Streets of Gadgetzan as 'Patches the Pirate' with more eyepatches than most pirates have eyes. Again, a flying pirate, exactly the same card text it had before he disappeared from TGT.
I can't wait to experiment with some crazy pirate decks come December!
What have been your favorite cards teased from Mean Streets of Gadgetzan so far? Which crime family do you plan on supporting, and why is it the Jade Lotus?