For Azeroth! will be easy with this week's Warcraft-heavy hero rotation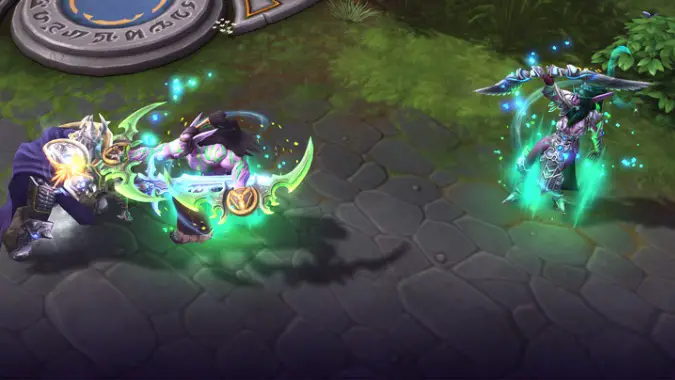 While there's nothing new in Heroes of the Storm this week, the For Azeroth! event continues — and with it, plenty of WoW players are hopping into the game to get their Primal Flamesaber Mount. So far, this has meant a lot of Heroes newbies in the Nexus — newbies like us — so regular players will need some patience to play this week. (And for the newbies in the audience, we have some tips on earning gold to buy Warcraft heroes so you can grab your mount.)
But for players without a big collection of heroes, this week's rotation is packed with Warcraft heroes, including Chromie, Illidan, Gul'dan, Kael'thas, Li Li, Chen, and ETC. Brand new players won't have access to all of these straight off — Kael'thas requires player level 5, Illidan player level 7, Chen player level 12, and Chromie player level 15 — but it's still a great rotation for getting For Azeroth! completed.
Check out the full list, plus this week's sales, below:
Assassin
Chromie
Illidan
Gul'dan
Kael'thas
Specialist
Support
Warrior
We have an extra large batch of sales this week, though for anyone trying to do the For Azeroth! event, there's only one Warcraft hero in the mix: Stitches. However, if you're looking for Overwatch heroes to pair up with Lucio, they're all here, with Zarya, Tracer, and even the Widowmaker skin for Nova. Happy shopping!
Stitches: $4.24/€4.19/£3.19
Nova: $4.24/€4.19/£3.19
Tracer: $4.99/€4.99/£3.69
Zarya: $4.99/€4.99/£3.69
Psycho Stitches skin: $3.74/€3.69/£2.70
Widowmaker Nova skin: $3.74/€3.69/£2.70
That's it for Heroes this week. As usual, we'll see you in the Nexus!