What did you get from Heroes 2.0?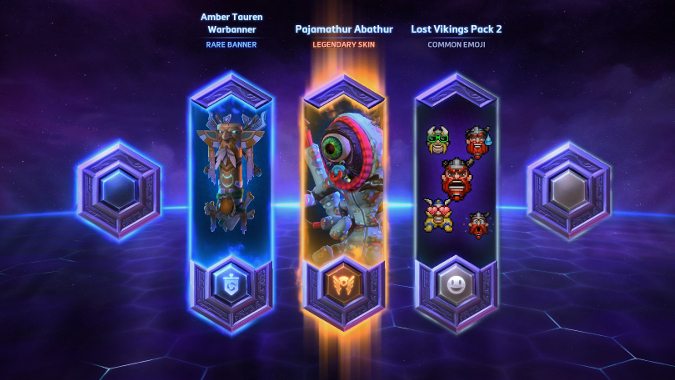 The Heroes of the Storm development team kicked off Heroes 2.0 yesterday with a bang. The internet hasn't settled on a term yet, though Christmas of the Storm does have a certain charm to describe a day where loot chests rained from the sky like so many Azmodunks.
I mean, systems revamps, new maps, cinematics, blah blah blah. That's well and good. The real excitement right now is over what you got. Mitch opened a few boxes before the podcast stream yesterday and the very first pack he opened contained two emoji, which is great if you like schadenfreude. In my first, I got a Sonya skin and a new banner I liked. The emoji pack featuring hands but no thumbs up was a bit more disappointing.
Personally I never really cared a lot about skins or mounts, because I'm notoriously cheap. I don't buy things if I don't have to. Now I'm steepling my fingers over my new Gold Steampunk Kael'thas, High Elf Tyrande, and Turquoise Cloud Serpent. The crown jewel is, of course, my new little baby Pajamathur. I wouldn't have made these purchases before, but now that I have them I'm pretty thrilled with what I got. I'm ho hum over the sprays and emoji though. I noticed a very familiar feeling start to creep in as I opened boxes, though. Two emoji packs, a Gazlowe voice line and a duplicate banner? Gee, you shouldn't have.
So, what did you get? Did you choose a particularly juicy megabundle? Any truly great — or truly heartbreaking — loot chest rolls? Did you get the cutest emoji ever? Are you happy with what you got?