Daily Legion Heroic now rewards five Writhing Essence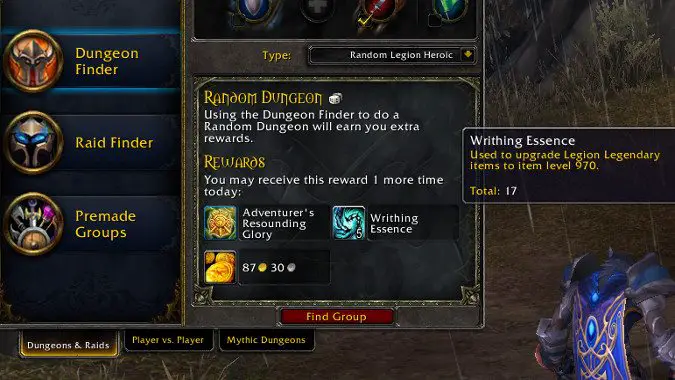 This week, many of us are trying to upgrade our 940 (or 910) Legendaries to 970. And if you're one of us, there's another source of Writhing Essence to pick up to make completing the upgrade easier: namely your first Heroic dungeon of the day.
Just hotfixed: Completing your first Legion Heroic dungeon each day will now award you with 5 Writhing Essences, if you're eligible.

— WarcraftDevs (@WarcraftDevs) June 23, 2017
This is a very welcome hotfix, because 50 Writhing Essence are not easy to accumulate if you're not raiding regularly and getting those legendaries upgraded was rapidly turning into my second job. Kudos to the devs for this — it means you have a guarantee of at least five a day, which means you'll complete the quest and upgrade your first Legendary in under 10 days even if you don't do anything else. (Though doing Mythics, raiding Tomb of Sargeras, PVPing, and more can speed up the process.) It's a very friendly move for more casual players and is generally nice for anyone working on this.
Not sure where to start? We have a guide to walk you through how to get your Legendaries upgraded.