Rewards for Season 11 of Diablo 3 revealed
We've known for a little while now that the 11th Season of Diablo 3 would be coming July 20, two weeks from now — what we didn't know is what this particular Season would have in terms of player rewards. That's changed, as Blizzard has offered a first look at what's in store for participants of the game's 11th Season.
Quick background for anyone who's new to Diablo or just plain hasn't played in a while: Every few months, a new "Season" begins in Diablo 3. During a Season, you can make a brand-new, Seasonal character who does not share a Stash or gold with any of your previous characters until the Season has ended. Essentially, every Seasonal character begins on the same footing, and the competition comes from trying to level as high as possible.
Of course, you're free to take the competition as seriously or casually as you'd like — the main reasons for partaking in a Season are the rewards! In particular, completing various goals during the Season will reward anything from a pet to a portrait to exclusive armor pieces. These goals are usually related to either leveling or completing a certain difficulty of Greater Rift, but do not depend on your performance relative to other players.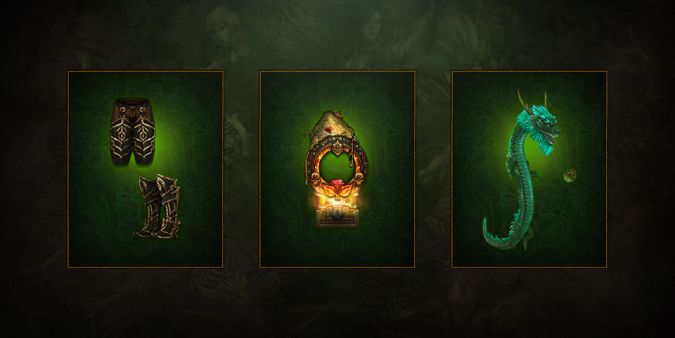 Season 11 is introducing two new pieces to the Conqueror set, a Treasure Goblin-themed portrait, and an Emerald Dragon pet — all seen respectively above. Additionally, players will be able to earn a class-specific armor set from Haedrig's Gift, a cache earned for completing Chapters 2, 3, and 4 of the Season Journey. You can only earn one entire class set per Season, so be sure to open all three of Haedrig's Gifts on the class whose armor set you want.
Not sure what class's armor you want? From left to right in the picture below, this season will offer the following sets for each class:
Monk — Raiment of a Thousand Storms
Demon Hunter — Unhallowed Essence
Crusader — Roland's Legacy
Wizard — Tal Rasha's Elements
Barbarian — Wrath of the Wastes
Witch Doctor — Helltooth Harness
Necromancer — Bones of Rathma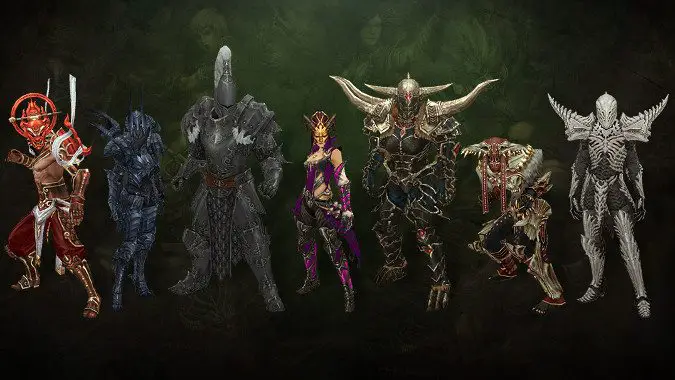 The last time these particular sets — minus the Necromancer's — were available as Seasonal rewards was during Season 7, which began last August. In other words, if you love the look of any of these, you'll want to grab them before the end of the Season — otherwise, you risk waiting close to a year for another shot.
In addition to all of the above cosmetic rewards, Season 11 will be offering a slew of Seasonal Conquests to attempt and earn achievements for completing. If any of this sounds like something you're interested in, you only have to wait two weeks to get started — take note, however, that Season 11 is starting on a Thursday instead of the usual Friday. See you in Sanctuary!