Dehaka is the latest co-op commander in StarCraft 2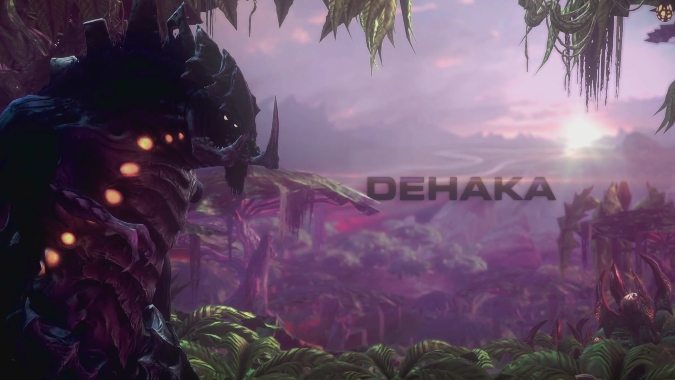 Just announced at Gamescom, Dehaka will be the newest Commander to join StarCraft 2 co-op mode. He's particularly customizable, growing stronger and mutating in different ways as he fights. His abilities are
Leap: No surprise that this ability sends Dehaka leaping at his enemies from a distance.
Intimidating Roar: Slows enemies' attack and movement speeds.
Devour: A neat ability which allows him to gain temporary powers based on what he eats. For example, devouring air units gives him a ranged attack while devouring psionic units reduce his cooldowns.
Scorching Breath: A fiery AOE with up to three charges.
As he gains power, Dehaka will also unlock passive abilities, including a healing aura and the ability to detect cloaked units.
Dehaka isn't alone though. He commands a pack of primal Zerg which can fight each other to evolve and gain further strength. A Zergling can evolve into a Ravasaur or an Ultralisk can evolve into a Tyranosaur. At level 15, these units have a random chance to gain special bonuses through gene mutations. If Dehaka's Zerg army isn't enough, he's allied with three other packs, led by Glevik, Murvar, and Darkrun.
We still don't know when Dehaka will be in game, but you'll find him in the Battle.net Store when he is, likely priced at $4.99. For all the details, check out Dehaka's video preview below!