News
Sep 13, 2017 3:24 pm CT
Pre-purchases for BlizzCon 2017 Goody Bag and Epic Upgrade now live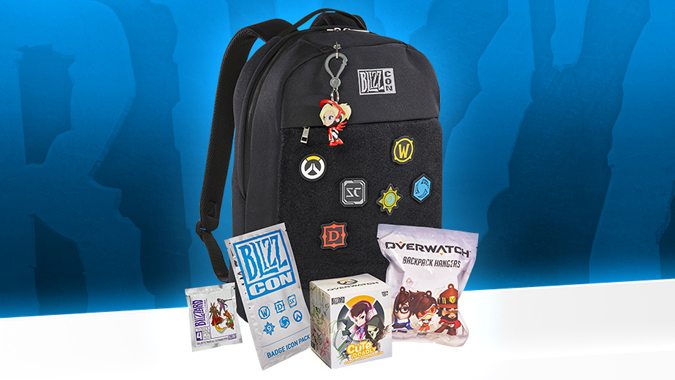 The Goody Bag for this year's BlizzCon was previewed earlier this week, and now you can pre-purchase it. This year, however, everyone can get their hands on the special BlizzCon swag and even more. Quantities are definitely limited, so if you're interested you may want to get a jump on it — and that goes doubly so if you're also planning on getting the Virtual Ticket.
The BlizzCon Goody Bag is available to everyone for $45, with the Epic Upgrade option of extra loot for $70. Virtual Ticket holders get a $10 discount on their bags, so they can get the Goody Bag for $35 or the Epic Upgrade for $60. This is just the base price, not including shipping or taxes. What's the difference between the two bags? Take a look:
BlizzCon 2017 Goody Bag Contents
Blizzard game Backpack
Velcro Badge Icon Pack, with a badge for each Blizzard game (6 badges)
Series 4 Collectible Pin
Series 3 Overwatch edition Cute But Deadly Vinyl
BlizzCon exclusive Eidgenossen Mercy Backpack Hanger
BlizzCon 2017 Goody Bag Upgrade
Everything in the regular Goody Bag
Badge Booster Pack with 3 blind badges
Extra Series 4 Collectible Pin
Extra Series 3 Overwatch edition Cute But Deadly Vinyl
Overwatch Backpack Blind Hanger
BlizzCon 2017 Merchy Pin (also available with $150+ purchase in the upcoming BlizzCon merch sale)
Pre-purchased Goody Bags are expected to ship before BlizzCon in early November. Attendees will get their Goody Bags at the convention, but they also have the option of pre-purchasing more through the store to ship directly. Since BlizzCon is November 3-4, you can probably expect them to ship out in the days before. There are a couple restrictions regarding the Epic Upgrade that you'll want to take note of: Goody Bags cannot be upgraded after purchase and Epic Upgraded Goody Bags must be purchased in a separate order from the regular Goody Bags if you're purchasing both. To get your hands on this epic loot, simply head over to the Blizzard store link to purchase away.