New Overwatch and Heroes loot is now available for Twitch Prime users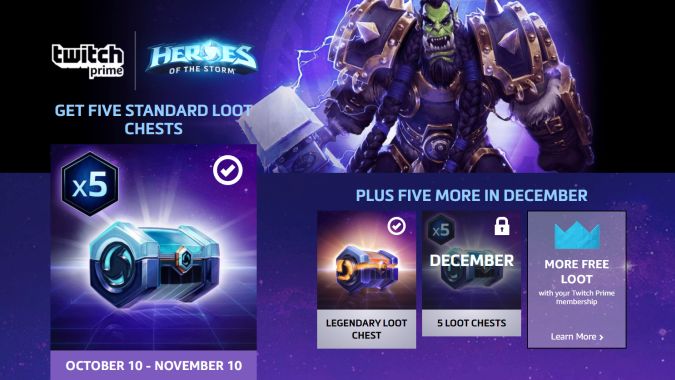 With everything going on in the world of Blizzard, it might be easy to forget that the gaming company has been slowly doling out free stuff to Twitch/Amazon Prime users. Now through November 10 anyone with a Twitch Prime account can claim five Overwatch loot boxes and five Heroes of the Storm loot chests.
Right now, this appears to be the last month of free Overwatch loot, though it's always possible we'll get something new announced after BlizzCon, since the Heroes loot will be continuing through December. Whatever the case, it's free loot! If you have Twitch Prime, which you get by linking an Amazon Prime account with Twitch, claim it now before you forget.
Oh, and because I know you're going to ask: These are standard loot boxes and will not contain and of the Halloween-specific loot in either game. Sadly, if you want Reaper's new Dracula skin or a horse with a horse costume, you're going to have to earn them the normal ways (i.e. by leveling or spending real money).
If you haven't claimed loot via Twitch Prime before, it's a relatively simple process. All you need to do is log into Twitch, look for the crown icon in the upper-right corner of the screen (to the left of your profile image), and then scroll down to the promotions you want to claim and click "Learn More." Alternatively, you can just follow these links for the Overwatch and Heroes of the Storm loot pages.
Keep in mind, the Overwatch loot needs to be claimed via your Battle.net profile through the Code Redemption option, while the Heroes loot will automatically be added to your Blizzard account if you have it linked to your Twitch account. Personally, I hope these sorts of promotions continue — so far, none of the rewards have felt like something non-Prime users would need, but they're all nice little gifts for those who can get them. Here's hoping we see more of these!