BlizzCon 2017: LoreCraft storytelling panel talks about collaboration and connection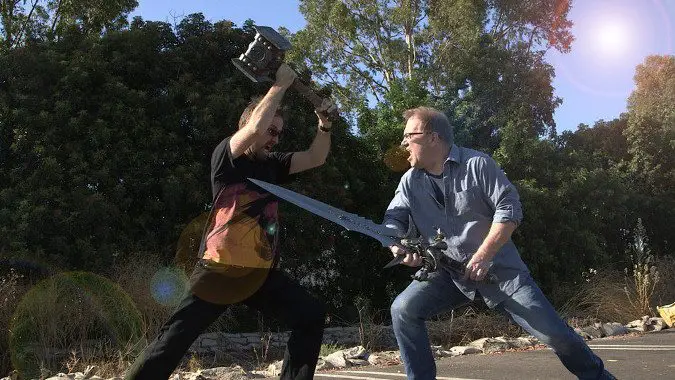 If you love Blizzard games, you probably love them for a variety of reasons. I love them for their stories, so watching BlizzCon's LoreCraft panel was amazing for me. Plus I got to see Terran Gregory and Mark Messenger in a Mak'Gora, and you can't ask for anything more than that.
The participants were Senior Producer Timothy Loughran, Director of Story George Krstic, Senior Writer Christie Golden, Lead Editor of Publishing Robert Simpson, Lead Storyboard Artist Mike Koizumi, Historian Supervisor Sean Copeland, and Project Director Mark Messenger, who as a for example directed the Battle for Azeroth cinematic unveiled at BlizzCon 2017.
How Blizzard organically builds stories
What's fascinating about this panel was how it contained both conceptual and practical examples of how the story team operates. Sean Copeland explained the Historian department, as Chris Metzen originally explained it to him. Historians are be equivalent to D&D dungeon masters: "world-class Dungeon Masters empowered other Dungeon Masters" by explaining characters and worlds, from pronunciations to role in their setting. This flowed to Mark Messenger discussing how the cinematic came about and George Krstic explaining how they originally forgot to have Anduin using Varian's sword, and it really highlights how the process is very organic. It gave a sense for many people contributed to the storytelling in a cinematic like the one for Battle for Azeroth.
Lead Storyboard Artist Mike Koizumi detailed the work on the Mei cinematic we saw at Gamescom. It was a fascinating look into how the story unfolded and how a visual moment — Mei not being able to cross the Antarctic wastes when she first came to the door out of the station — can do as much work as a whole heap of exposition. And George Krstic explained that yes, Blizzard makes Overwatch shorts just to make you cry. No, really. Okay, it's more than that — they want to help connect the gameplay to real emotional connections because that makes the games themselves more important to you.
Blizzard's Story Room
George Krstic brought the idea of the Story Room to Blizzard when he took over as Director of Story. He likens it to a D&D party where everyone plays a role and takes care of specific tasks in the room. Games are a collaborative storytelling medium and I love this idea of a place where people of different storytelling disciplines come together. There's a lot to unpack here, but if I had to pick just one moment of the Story Room to explore it's the question "Is this my hill?" — namely that there are often moments that a writer or storyteller is willing to die for, but that you have to know if a line or idea is that hill you want to die on.
Of course we get to hear from Christie Golden as well and man, that's always a delight. She's written some of the best Warcraft stories over the years — I'm still a huge fan of her rendition of Sylvanas in War Crimes — and now that she's actually working at Blizzard it's heartening to realize her voice is one heard in the story room.
And now for Q&A
They didn't say no to an Overwatch novel but they have no news of one to announce yet. They absolutely do get story ideas from outside the story team, including pretty much every team inside Blizzard.
Christie Golden's hardest scene to write in War Crimes was the scene where Anduin decides to save Garrosh Hellscream after Garrosh's extreme emotional attacks on Anduin.
One question was what difference does Blizzard want to make in the world today, and George Krstic said that Blizzard wants to be accepting, speak to a diverse global audience and indeed, express the human condition — what does it mean to be a human, have conflicts of interest and so on.
When asked about diversity, they spoke about opening up the story room to different points of view and remembering that not everyone will understand the same groups of references or experiences. Mark Messenger even pointed out that in the original Illidan Harbingers short that they had to challenge themselves and change the PoV character from a male to a female Demon Hunter.
A question for Christie Golden about the novel First Born went into the different ways Blizzard works with their authors — the Dark Templar trilogy basic idea was from Chris Metzen and originally Christie had a telepath in the story and had to rewrite the whole first chapter of the book. Blizzard also has a positive view of fanfiction and views that if you want to get into creative work, whether it's working at Blizzard or someone else, you should always be creating and sharing your work, getting feedback and so on. Individual suggestions from the panel included seeking out new experiences, trying out as many new creative forms as possible and never giving up.
Pharah's father's First Nation's tribe is known, but Sean Copeland didn't want to share it in case the Overwatch team wants to reveal it later.
Overall this was one of the best panels I've gotten to see in years, and it's so great that they finally put everything on the Virtual Ticket so that we all get to see it.