Hunters campaign to save Hati after Artifacts go away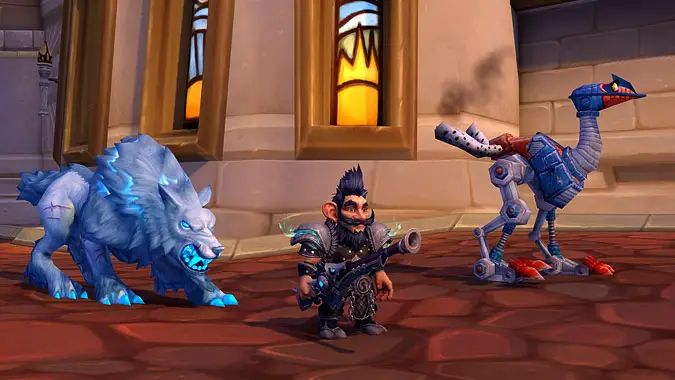 The smallest things can make a huge difference. I've actually played my Hunter in Legion, and amazingly, I didn't play her as Survival despite the fact that I'd have been able to play her with Ashkandi on her back. No, I played her as Beast Mastery and I did that for one reason: my favorite cracklewolf, Hati, who's tied to the Beast Mastery Artifact. And I'm apparently far from the only player who loves their electric wolf friend — folks on the forums have been campaigning to try and save Hati at the end of Legion.
See, we know that our Artifacts are going away at the end of this expansion. But what we don't know is how, exactly, that's going to affect specific classes. And it seems as though the Hunter community, even those who don't play Beast Mastery, feel that Hati deserves to survive the end of the expansion even if he doesn't remain as a BM staple ability. This all started because of a tweet from Blizzard developer Johnny Cash — every time I mention him I fight the urge to make a Ring of Fire reference — telling Hunters to get on the forums and share what they'd like to see happen to Hati in the future.
What I definitely recommend if you haven't already is starting thread(s) on the official forums, reddit, etc. talking about why Hati is important to you as a BM hunter and what sorts of things we might be able to do to give Hati a happy future. We're absolutely listening!!!

— Johnny Cash 💙 (@QuestTheLine) December 3, 2017
This thing has since grown some legs, with lots of talk about what Hati's ultimate fate should be.
I personally don't think Hati should remain the second pet for BM moving forward — he's too specific and tied to the lore of the Legion expansion — but I definitely think he deserves a happy retirement to the Storm Peaks to hang out with Thorim again and Beast Mastery Hunters should definitely gain a new talent or ability that lets them have a second pet. It's simply too iconic an ability, it's like Titan's Grip for Fury Warriors. It defines and strengthens the spec's class feel and definitely would feel strange to lose post Legion.
If you have an opinion about what should happen to Hati, head over to the forums and share it. If Blizzard really is listening now's the time to be heard.