WoW
Feb 27, 2018 1:26 pm CT
Seething Shore Battleground preview Brawl now available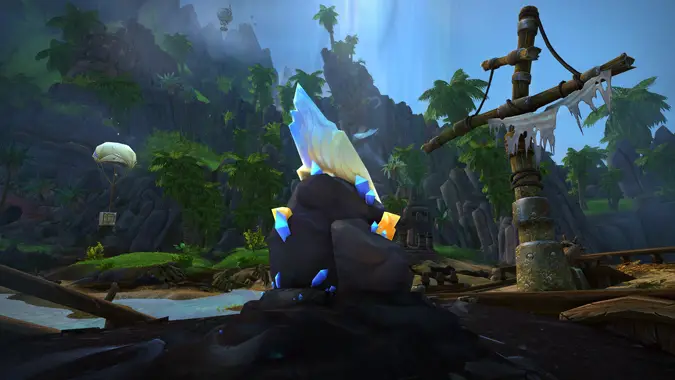 The Seething Shore battleground is hitting live servers sooner than expected…as in, today! It's not an official launch of the new PVP battleground, which was first announced at BlizzCon last year. This is a preview Brawl for players to participate in a little early. Seething Shore is a 10v10 battleground in which players fight to capture deposits of precious Azerite. The battleground takes place on an island just off the coast of Silithus. Unlike Silithus, the Seething Shore is teeming with life — the environment is visually striking. Much like other battlegrounds, you won't see an in-game counterpart for the island. It's only available in the PVP instance — sorry, explorers!
Seething Shore plays a little like Arathi Basin, where players must capture points to win. But instead of static capture points, Azerite deposits are dynamic. They also disappear very quickly once claimed, so there's a need to be persistently on the move, adding a different dimension to gameplay and getting rid of that whole "stand on a point and defend it" thing you see in Arathi. You'll also want to keep your eyes peeled — both for Azerite nodes, and for power-ups that can help out your team. The first team to hit 1,500 Azerite wins the match.
Although introduced as a feature of Battle for Azeroth, it appears the designers have changed their mind on that count. Yes, this is a preview Brawl, but the battleground officially goes live and hits the regular rotation next week on March 6. Interestingly enough, this also falls right in line with the new countdown the Xorothian Cultists have been quietly channeling. The previous odd Cultist countdown also heralded the launch of patch 7.3.5. It's entirely possible that we won't just be getting a battleground next week — we might be getting some more Silithus story content as well. We'll have to wait until next week to see for certain, however.
But hey, while we're waiting, there's a new Brawl to play and a new battleground to try out! For more information on the Seething Shore, Wowhead has a really good overview of the zone, including a PVP preview from the 7.3.5 PTR.