StarCraft 2 balance updates, StarCraft Remastered anniversary patch delayed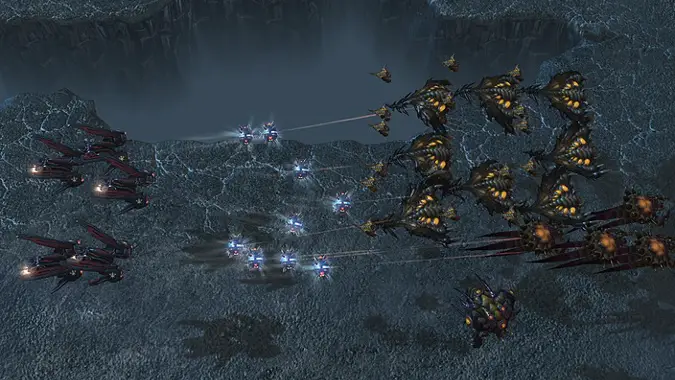 StarCraft 2 currently has a couple of balance changes in testing to address some of the game's current competitive pain points. First, to address Protoss feeling pigeon holed into one early game playstyle when up against the Zerg, they'll be changing the Zerg unit upgrade causing the situation:
Next, the developers are attempting to shift what has become the de facto endgame strategy for the Terran faction. Terrans have become increasingly reliant on Ravens for the bulk of their army's power, despite Ravens being intended as a support unit to augment a larger army's power. They'll be shifting power out of Ravens and into Vikings, hopefully making Vikings a more viable asset to an army.
These changes are currently available for testing and could go live as early as March 19.
So far, the response to these changes from Terran players isn't altogether positive. The Ravens have been perceived as the only viable lategame unit in their repertoire. First impressions suggest the minor buff to Vikings isn't going to help. So far, the most common piece of feedback is a request to redesign the Battlecruiser's function in StarCraft 2. In Brood War, the Battlecruiser was a viable late game unit due to being slow-firing, yet hitting like a truck. The StarCraft 2 iteration fires rapidly, but each shot deals less damage — thus armor is a far more effective counter against Battlecruisers than it was in Brood War.
Essentially, Ravens were being used to fill the niche that was once filled by Battlecruisers. The buff to Vikings could create new strategies for Terran endgame, but players seem to long for what they one had, not what they could have.
And in news related to Brood War, the patch for StarCraft Remastered that was meant to introduce the 20th anniversary rewards has been delayed. Currently, there is no ETA for its release.
In terms of delays, delaying your own 20th Anniversary celebration is pretty rough. Hopefully the developers can sort out their hurdles sooner rather than later.