WoW
Jun 15, 2018 10:00 am CT
Treat your ears to the main title music for Battle for Azeroth, "Before the Storm"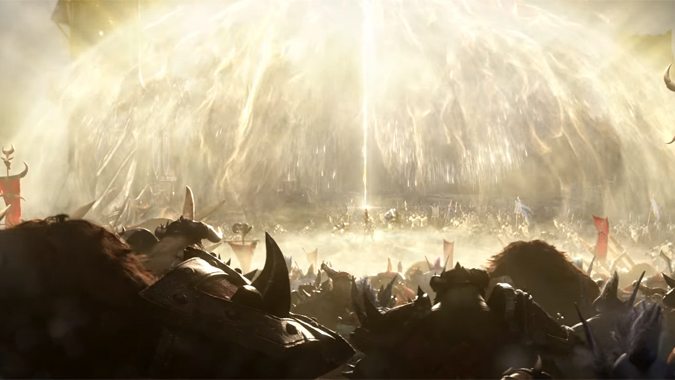 You know, I'm always perfectly aware of when an expansion is going to release, but it doesn't feel "real" until I hear the sweet sweet strains of new title music. The folks at Blizzard decided to give us Battle for Azeroth's opening titles yesterday, an eleven-minute track titled, appropriately enough, "Before the Storm." Composed and arranged by Glenn Stafford, the track includes additional music by some of the big names over at Blizzard. Neil Acree, Sam Cardon, Clint Bajakian, and David Arkenstone are all on the credits list for this one.
Look, I'm going to talk about this, but before I do — just listen to it for yourself, okay?
There's nothing like the opening strains of that all-too-familiar theme from World of Warcraft. It's been arranged with a slightly more urgent tone this time around, which reflects what we're in for — war. A lot of war. What I love about this piece though is that it switches perspectives a few different times throughout the track. One minute you're listening to the familiar strains of WoW's opening theme, the next you're transported to the faraway isle of Zandalar. And I really appreciate the deep dive into a perfectly triumphant naval march of sorts, one that immediately evokes imagery of ships traversing the high seas.
I think what I appreciate the most, however, is the end of the track. It doesn't finish with a triumphant or heavy flourish, it fades out on an almost anticipatory note. It doesn't feel like the end of a solo track of music — it feels like that moment in a film where the opening credits fade out to the first scene. We're headed off to try and gain the favor of two heretofore completely unknown nations. We don't have any idea how exactly they're going to respond to the idea of an alliance. Heck, we don't even know if they have any kind of stake in this war at all. You can really feel that sense of anticipatory uncertainty in the theme. We're treading unfamiliar waters, here, and the opening track reflects that feeling.
I can't wait to hear the rest of the soundtrack. I don't know if Blizzard is going to give us any more previews of the music before the game is released, but I certainly hope they do. Battle for Azeroth's assorted zones are all pretty visually distinct from each other, and I really want to hear how the music plays with the underlying themes of each zone. I think the one I'm looking forward to the most is Drustvar — the place is super creepy, and I can't wait to hear what the composers have come up with to help evoke the zone's unsettling nature. Regardless of whether or not we get more previews, I know I'll have the music on in August when Battle for Azeroth is released. What do you guys think of the track?