WoW
Jun 25, 2018 11:00 am CT
WoW Mobile Armory being sent to the app farm in the cloud, to return stronger soon™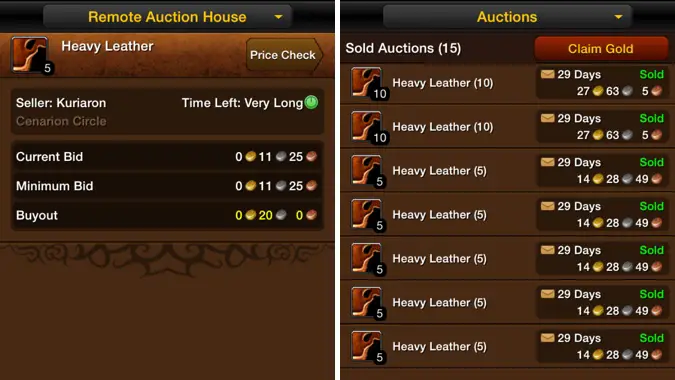 Not too long ago, the World of Warcraft Remote Auction House app was shut down, much to the disappointment of many WoW players. Perhaps not too surprisingly, the Mobile Armory app — which included the Remote Auction House — is also being retired. The app's retirement will occur on July 11 and will leave the only WoW-specific Blizzard app as the Legion Companion app.
Speaking of the Legion Companion app, however, Blizzard notes that it will, not surprisingly, be transitioned into a more generalized "WoW Companion app" at some point in the near future. As part of that, "many of your favorite World of Warcraft Armory app features" will be incorporated, as well as features specific to the upcoming Battle for Azeroth expansion.
Really, none of this should be too surprising. The Legion Companion app, in my experience, proved to be quite successful. It was a solid way to check up on your missions — and, perhaps more importantly, your alts' missions — without needing to log in and log out of several characters over and over. Considering Battle for Azeroth is taking cues from previous expansions and once again incorporating missions, it's no shocker that the app will be updated for Battle for Azeroth. Similarly, Blizzard not wanting to split your attention between two different WoW apps is also no surprise. The transition from Legion to Battle for Azeroth is the perfect time to retire one app and roll it into the app that was going to be updated anyway.
However, what I expect to be the biggest factor in players' reactions to a new all-in-one WoW app is whether or not it will include another form of mobile Auction House. Let's be real — most people used the WoW Mobile Armory strictly for the Auction House portion. If you asked me to name the features of the Mobile Armory app, I'd be able to list two: guild chat and the Auction House. I'm aware of the fact that there are like six or so more buttons, but I don't remember them. I only ever used the Auction House, and — very occasionally — the guild chat feature.
So while I am happy that Blizzard has decided to merge WoW apps into one single app that will work for more than one expansion at a time, I'm still kind of "meh" about the whole thing until Blizzard mentions whether or not the Auction House will be included. Their announcement of this Mobile Armory's retirement is conspicuously absent of any mention of the Auction House, which doesn't make me hopeful. But, at the very least, we'll have an app that works for missions (and some other stuff I'll ignore). I guess I can't complain too much about that.
…But I really would love a mobile Auction House and/or better in-game Auction House UI. Come on, Blizz. Make it happen.