High Inquisitor Whitemane's Hero Spotlight shows off the power of a zealous Disc. Priest
Updated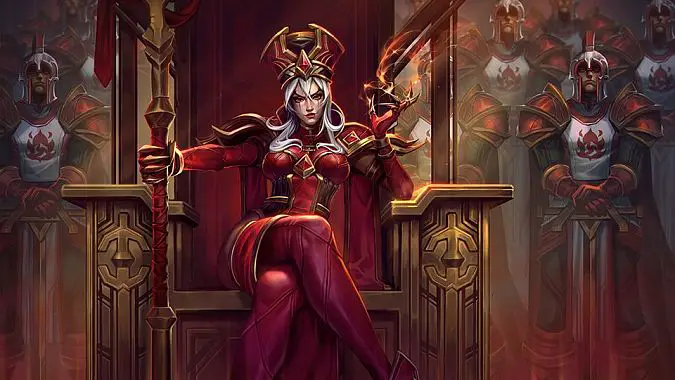 After two days of teasing us, the Heroes of the Storm team released the name (and some lovely artwork) of the next Hero coming to the Nexus. High Inquisitor Whitemane, the final boss of the Scarlet Monastery dungeon in WoW, will be joining the fray and smiting all those in her way. Based on the artwork, it seems pretty likely that we'll be encountering her Mists of Pandaria iteration rather than her Death Knight-ified Legion iteration.
Unfortunately, we won't know her ability kit until after tomorrow's first HGC EU match, which takes place at 9:00 a.m. Pacific. For now, though, we can probably make a few speculations based on what she casts in the Scarlet Monastery. Namely, she looks like she'll be a Discipline Priest — which, yeah, total bias, but I'm sad to see a Priest character in the game that isn't Shadow. Especially since there's one that could totally work as a Shadow Priest Hero.
Biases aside, as a WoW boss, she uses Deep Sleep, Holy Smite, Power Word: Shield, and Scarlet Resurrection. I'm especially curious about the first and last abilities on that list. Both are abilities already utilized by other Heroes — Ana and Auriel, respectively — so I don't know if they'll still give them to Whitemane but change how they function slightly (e.g., Ana's Sleep Dart is a skill-shot, so maybe Whitemane's wouldn't be) or if they'll just outright replace them.
I also wouldn't be surprised to see her updated a bit to match the current Discipline Priest playstyle. Blizz could give her Penance, Smite, Holy Fire, and a couple other talented abilities, plus Atonement as part of her Trait. That said, Discipline Priests fill a hybrid DPS/healing niche right now — would Whitemane be the game's second multi-class Hero? Or will Blizzard put more emphasis on healing rather than damage?
What would surprise me — in a good way — is if Blizzard somehow incorporated her Death Knight iteration into her kit. For instance, she could die but then gain new life as a Death Knight. I don't expect that, but it would be cool. Of course, we'll know for sure tomorrow when her Hero Spotlight arrives. Until then, speculate away!
Update: We have a Hero Spotlight!
No surprise, Whitemane functions a lot like a Discipline Priest, thanks to her Zeal Trait, which allows her damaging abilities to heal anyone she's recently healed. She has a single baseline heal that increases in mana cost if she casts it too many times in a row, with the option of picking a Heroic that will also provide healing. Meanwhile, the rest of her kit is pretty aggressive for a Support character. What is a slight surprise is that she doesn't have any sort of resurrection ability or (as far as I can tell), any talent called, "Arise, my champion!"
Really, though, I think the biggest surprise for most people will be the fact that she is not, in fact, wearing pants like her original teaser image made it appear. Check out her Hero page for the official rundown (as well as a look at her Celestial Empress skin).