WoW
Jul 31, 2018 11:32 am CT
Warbringers: Sylvanas ends the Darkshore storyline in emphatic fashion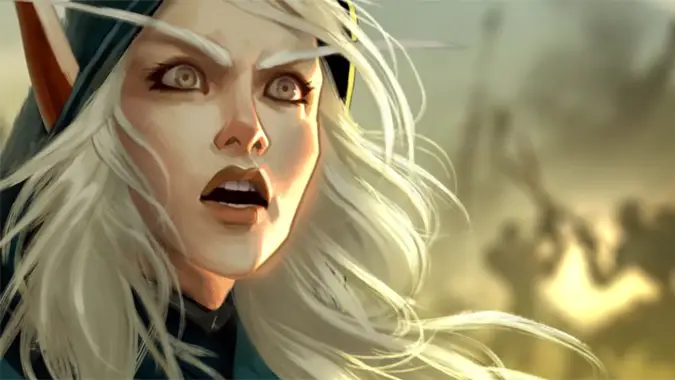 There are spoilers in this post for those still playing through patch 8.0's War of the Thorns storyline, so be warned, and turn away if you haven't played through this week's installment just yet. The second episode of Warbringers isn't just an animated short — it also serves as a cinematic for the Darkshore storyline. In it, the event we all knew was coming is finally revealed in horrifying detail — Teldrassil is lost. And the Banshee Queen is fully responsible for it. This episode isn't a musical like last week's interlude…it's a full scale horror show.
But can we really expect any less from the Banshee Queen of the Forsaken? In Warbringers: Sylvanas, we get a glimpse of the moment Ranger General Sylvanas Windrunner died, and the Banshee was born. During the Third War, Sylvanas managed to become an irritating thorn in Arthas' side, and the second he had the opportunity, he struck her down. But he didn't let her die — he ripped her spirit from her body and transformed her into a banshee.
We've seen that moment play out here and there, but we've never really been in Sylvanas' head as she went through it. We have, however, seen what comes after. And Captain Delayrn Summermoon cuts to the bone a moment later in the cinematic, her words striking the kind of blow to Sylvanas that arrows and swords never could. Sylvanas' response is petty, cruel, and an emphatic statement as to her intentions. Let's be clear — this isn't Garrosh Hellscream 2.0.
It's much, much worse than that.
What this spells for the future of the Horde is uncertain. But for the Alliance, it's an atrocity that demands immediate retribution. We won't see that retribution this week, but the Battle for Lordaeron is on its way. Until then, take a look at the second episode of Warbringers above — or play through the game and witness it there. I like that they implemented this one as a cinematic, even if it was an incredibly bitter pill to swallow.