WoW
Aug 13, 2018 4:21 pm CT
What has everyone been doing while waiting for BFA?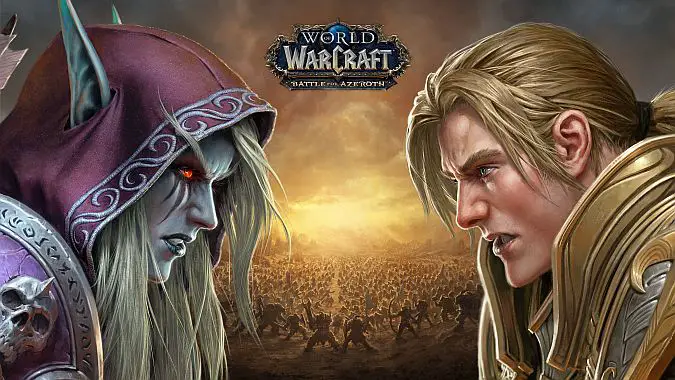 Today is the day that World of Warcraft: Battle for Azeroth goes live and everyone has been preparing to make the trek into new territory. From loads of snacks to in-game hauls of leveling items and last-minute activities, a lot of people have been showing off what they're doing to be ready for the expansions launch.
Blizzard's own Terran Gregory posted a tweet of his character and many others lining up in Dalaran on their mammoth mounts–you know, as you do right before the next expansion hits.
#JustExpansionEveThings pic.twitter.com/RH0JJNuJCD

— Terran Gregory 💙 (@TerranGregory) August 13, 2018
PattoArts is fully decked out in Alliance gear to represent his faction and to put fear into the hearts of any Horde players he meets.
I'm ready to kick all your Horde butts, come to Lorderon in the next 30 minutes if you want an ass-kicking. #Warcraft 👊👊👊 pic.twitter.com/xCq2GQTwi2

— (͡ ͡° ͜ つ ͡͡°) Tiny Stomper 🇨🇦🍁 (@PattoArts) August 13, 2018
Others have been piling up on food. While you're consuming loads of story about the ongoing faction conflict between Horde and Alliance, you also have to consume lots of tasty snacks. Overwatch League Stats Producer Ben Trautman has a haul of frozen food, coffee, and cashew milk. Unsurprisingly, his plan seems to be all about sustained stamina as he makes his way through all the new content.
I'm one workout and one pre release nap from being ready for #BFA pic.twitter.com/B1nTX8dPpX

— Ben Trautman (@CaptainPlanetOW) August 13, 2018
I like the snack packs that aren't completely packed with carbs and sugar like Ghost's here. Quinoa and porridge is probably a good, healthy strategy.
It's not pizza, Oreos and Pringles but there's the launch prep with 6 cooked chicken breasts 😭 #BattleForAzeroth pic.twitter.com/QWgzyVDCWG

— Ghost (@BauerPrime) August 13, 2018
All of these energy drinks and pizzas look real good though.
https://twitter.com/valar8morghulis/status/1028916187424608256
If it's not food, others are taking the time to clean up their desks so that there's no fuss when it comes to logging into the game and hammering away at all the quests. You don't want soda cans and other trash in your way. It's a new expansion, you have to start clean!
Staying up tonight for the #BattleForAzeroth release!! So excited for tonight 😍 you can probably tell what desk is mine 😍😂 pic.twitter.com/tTGVFFBNGJ

— Fearless Taylor's Version💛 (@BookLoverx) August 13, 2018
Stephen Biggerstaff is all set to play with his significant other. The journey is likely to be long, so having a companion is a good idea.
A his and hers set up for BFA. For the Horde! pic.twitter.com/Rb50jIIq4A

— Stephen (@_biggerstaff) August 12, 2018
I don't know about you, but I like having a second monitor to read or watch stuff while I'm playing. Yonaz here has five monitors. I don't know why they need that many, but at least he's very prepared for all the upcoming hours of playing.
New gaming desk ready just in time for World of Warcraft – Battle for Azeroth! FOR THE HORDE! @WarcraftDevs @Warcraft @Razer @CORSAIR #Warcraft #BFA #BattleForAzeroth pic.twitter.com/8gA87rtqry

— The_Yonaz (@YonazGaming) August 13, 2018
Even if you don't get to extravagant about your setup or snacks, you should at least have a way to take small breaks to hydrate and eat. It's important!
What kind of stuff are you bringing to the new expansion?