WoW
Aug 13, 2018 1:00 pm CT
What worries Chris Metzen these days? Toxic fandom.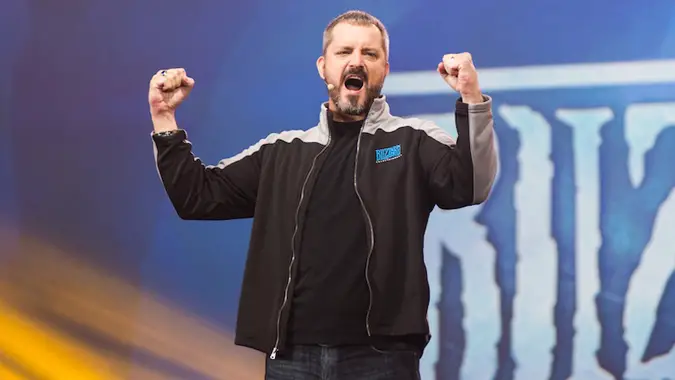 Chris Metzen, who needs no introduction, recently sat down for a chat with Scott Johnson, podcaster for The Instance. This was a "hi, how are you doing?" interview, a chance to catch up that they gleefully labeled "Metzen 2.0." But with the burning of Teldrassil fresh in everyone's mind, the interview quickly changed to the nature of fandom: in particular, the toxicity expressed by some fans.
Beginning at the 7:25 mark, Metzen dives into the controversy surrounding The Last Jedi. He liked the movie, but didn't like the reaction of some fans. "People get displeased if their movie or comic isn't what they envisioned." The attacks on Rian Johnson rattled him, and it's not a far leap to see similar within the Blizzard gaming community. From Diablo 3 to the burning of Teldrassil (which comes up at 33:56), fans aren't always happy with Blizzard's decisions. "It was so hard to watch," he said. "These are my friends."
An extended few minutes out of the whole of the interview struck me:
Geeks love to break stuff down and dissemble 'the radio' and put it back together. That's kind of a part of the fun of being nerdy. We like to jam, like 'Where else would this have gone?' That's really healthy. Fan art, fanfic, where else would this have gone, is glorious. It is, essentially, creative. It is, essentially, relational. But sometimes it feels like this appalling lack of empathy and not for each other, but for the artists who are standing up there trying to keep the discussion going, and they are being stoned in the streets.
I don't want to see artists not create because of the fear of fan backlash, an idea Metzen returns to again and again. He fears the kind of attacks levied at Rian Johnson, Christie Golden, and others will prohibit the next generation of artists from expressing their vision. Personally, I don't want WoW to disappear because the story and development teams are scared to move us emotionally, fearing some sort of massive reaction which devolves into personal attacks.
As Metzen emphasizes, we're all in this together. We have a deep attachment to the characters, the landscape, the story of this game. When something happens to rattle our image of the story, it's right that we do some analysis. It's good storytelling when we can ask, "What if this hadn't happened? What could have been done differently to drive the story forward? How would that have impacted what we're seeing?" Being able to debate the merits of a story, as it is told, marks a great story. And yetwe don't "own" this story, strictly speaking.
We can provide feedback. We can discuss. We can react. But this isn't my story or your story. We're merely players along for the ride, as wild as that ride can get. We can opt in or we can take our money and opt out.
Metzen says he never experienced the vitriol he sees being heaped on people, especially Christie Golden. "The nerd community stones people that it's displeased by…[It] makes me embarrassed on behalf of the community."
After the "Old Soldier" cinematic, a lot of the community assumed it was created because of the backlash against the War of Thorns. But think on this. Metzen mentions the last thing he worked on before leaving Blizzard was the opening cinematic where Anduin resurrects the Alliance army. This was in development two and a half years ago, which means whatever comes after Battle for Azeroth is into heavy story development now.
Metzen is playing this game as we are. He loves the Saurfang story. He asks the community to engage positively with the creators so they continue to feel they can create. He also asks that we give the overall story a chance to play out. We've not seen anything near the end. I have my opinions. You have yours. They possibly don't agree, but I hope you'll game with me to see where the storyline goes.