WoW
Aug 14, 2018 2:00 pm CT
A bug may have stopped you from seeing this Jaina cinematic on launch day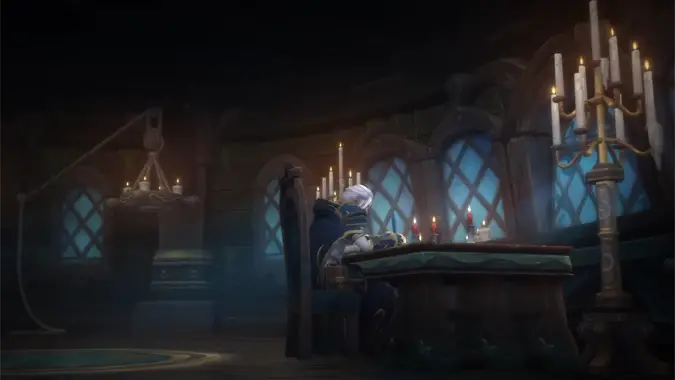 If you happened to be in the first wave of people hitting the shores of Kul Tiras yesterday, you may have missed a fairly important cinematic. A bug prevented the cinematic from playing on the way to Jaina's homeland, instead skipping straight to your arrival in Boralus. Most players (myself included) didn't even notice the omission — since cinematics weren't included on the beta, players had no way of knowing one was intended for that moment. The bug has since been corrected, but if you missed out on it initially, Wowhead was kind enough to throw it on YouTube for all to see.
It doesn't really need to be stated, but just in case — spoilers for the Alliance introduction below.
If you think you recognize one of the voices in the cinematic, you're probably right. In a killer move, Blizzard managed to land Mark Addy, who you might remember as Robert Baratheon from Game of Thrones. He's not the only member of that particular cast to do voicework for Battle for Azeroth — Indira Varma, who played Ellaria Sand in the show, can be found providing the pipes for none other than Lady Katherine Proudmoore. This isn't Varma's first vocal gig, either — players may also remember her as the character Vivienne in Dragon Age: Inquisition, among many other roles.
As for the cinematic itself…well. Jaina's certainly got a lot to deal with, doesn't she? This isn't a simple trip home for her, and she's not exactly looking forward to confronting her past. But if the Alliance has any hope of defeating the Horde, they'll need every ally they can get. This particular cinematic is immediately followed by arriving in Boralus, and Jaina's…chilly reception — both of which players should have experienced without a hitch.
While I'm nowhere near level 120 just yet, I have to say Blizzard is delivering a masterclass in storytelling right now. There are cinematics and short scenes all over the place, and I'm not even done with Tiragarde Sound just yet. I'm hoping, as with past expansions, that we'll get some kind of NPC somewhere who will let us re-watch everything if we'd like to — in game, as intended.