WoW
Dec 6, 2018 4:00 pm CT
Feed your friends to ravasaurs and more with patch 8.1's Paragon reputation rewards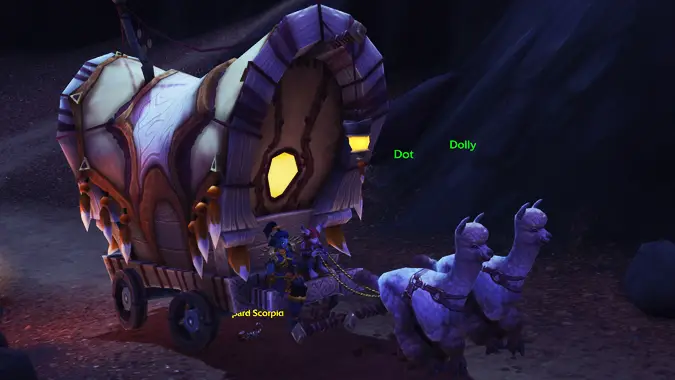 Paragon reputation — first introduced in Legion — was one of those features that was mysteriously absent from Battle for Azeroth's launch. The Paragon system offered additional rewards for continuing to grind out reputation past Exalted, which felt like an ideal fit for this expansion, given the sheer number of missions and World Quests with reputation as a reward. But fans of the Paragon system will be pleased to note its return in patch 8.1 next week. Our friends over at Wowhead have dug up all the rewards available, including a ton of new toys, as well as some new Battle Pets thrown into the mix.
On the neutral front, grinding out the Champions of Azeroth reputation will give you a chance at an Azerite Firework Launcher. This toy will merrily launch the planet's blood into the air in a pleasant and not-at-all-gruesome fireworks display. Who needs to stuff it in a necklace when there are pyrotechnic displays to be had! I mean…I guess Magni had a surplus of the stuff sitting around?
For fans of the Tortollan, two new toys are available as well. Kojo's Master Matching Set will give you an "expanded" version of the shell-matching game we've all been doing via World Quests since Battle for Azeroth's launch. Maybe a little more interesting is the Bowl of Glowing Pufferfish, a toy that summons a glowing, floating bowl.
The Alliance have several new toys, most notably the Proudmoore Music Box from Proudmoore Admiralty reputation. The box plays a lovely tinkling version of Daughter of the Sea, which places it square on my "I must have this" list. Also of note is the Bewitching Tea Set from the Order of Embers. While it sounds creepy, it doesn't appear that any dead cats are involved in this particular tea party. Three Battle Pets are also available for Alliance players — the Albatross Hatchling from Proudmoore Admiralty, the Cobalt Raven from Order of Embers, and a delightful Violet Abyssal Eel from Storm's Wake.
The Horde have been inundated with toys, it appears — particularly the Voldunai, who have three different toys to offer. Meerah's Jukebox is an immediate must-have, featuring our favorite Voldunai pal Meerah's greatest hit. You can also pick up a Goldtusk Inn Breakfast Buffet, or the Words of Akunda, which might hopefully give us our Akunda names back again. Here's hoping! There's one more toy I'm really looking forward to from Horde side — Zandalari Empire Supplies have a chance to drop the Warbeast Kraal Dinner Bell, which will feed a fallen ally to ravasaurs. Look, if the jumper cables don't work on my fallen friends, I like having additional options. I'm just saying.
There are other rewards available as well — both Horde and Alliance have War Banners and upgraded versions of Contract recipes. But players dreading the idea of more Paragon mounts to grind can rest easy, for now — there are no mounts on any of the loot tables. On the one hand, that's appreciated. On the other, mounts are what made those original Paragon boxes a must-grind for me. While I lucked out and managed to get them all, others weren't so lucky, and some players may even still be grinding away on old Legion World Quests at this point in search of elusive mounts.
I'd mentioned several times over during Legion that it would be nice if the Paragon boxes included some kind of currency that allowed players to eventually purchase Paragon rewards, should their luck be terrible. For must-have items like mounts, a system like that would take away some of the sting of persistent unlucky RNG. It appears that Blizzard has instead opted not to include mounts at all with this expansion's Paragon offerings. Admittedly, that's another solution to the frustration of not getting the drops you want — but it's at the expense of whatever cool mounts the development team might dream up.
And maybe that's a good thing. Unlike Legion, this expansion's reputation rewards feature a lot of faction-specific reputation grinding. For players that don't have characters at Exalted on both sides of the faction fence, it's far less pressure to go grind an alt on the opposite side. At the same time, while some of the Paragon rewards are cool, they don't have quite the appeal of Legion's assorted offerings. Still, there are some standouts in the collection — I can't wait to get my hands on that music box, and I'm looking forward to feeding my allies to tiny dinosaurs as the expansion moves on. Head over to Wowhead for the full list of rewards, and start planning what you're going to pick up!