News
Feb 12, 2019 5:10 pm CT
Activision Blizzard has record profits, so it's cutting 8% of its staff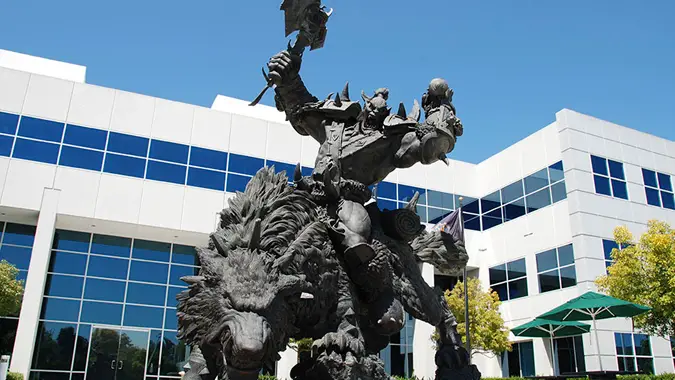 Good news, everyone! Activision Blizzard had a fantastic year and is absolutely rolling in money (possibly literally). In today's quarterly earnings call, CEO Bobby Kotick opened up by saying, "We once again achieved record results in 2018."
What amazing news for our favorite gaming company! And it's only logical that the company's tremendous success means it's time for layoffs. Activision Blizzard is cutting around 8% of its staff, which is nearly 800 people.
The problem, if you can call it a problem, is that despite its grand success, the company failed to meet expectations and management felt it didn't reach its "full potential." And to reach that potential, the company decided it needs to get rid of 800 of its "extraordinarily talented employees" — while increasing shareholder dividends and giving the new CFO a $15 million bonus.  Yes, corporate leadership said all of this with a straight face.
Dividends up 9%
Laying off 8%

Hard to believe but literally the stupidest stats I've ever written…..#ActivisionBlizzard

— WarcraftStats (@warcraftstats) February 12, 2019
Layoff rumors have been making the rounds for several days, but no one knew for sure what was happening until today, leaving employees understandably anxious leading up to the earnings call. And they had good reason to be, as layoffs began during the call — the only warning employees had came from the rumor mill.
As they brace for today's layoffs, Blizzard employees are crying and hugging in the parking lot, according to a person there. Still no official word from the company, but people in publishing and esports are expecting big cuts. Earnings is at 5pm ET – news should be around then.

— Jason Schreier (@jasonschreier) February 12, 2019
The layoffs primarily targeted non-development staff, like publishing and esports. Though we don't know what the exact breakdown of Blizzard layoffs, we're already seeing members of the community team kicked to the curb.
As of today I'm no longer an employee of @Blizzard_Ent. Wasn't my choice. I wanted to retire here. I was just laid off from my dream job.

Probably not best for me to tweet right now but it was an honor being your CM @Warcraft community. I love all of you.

— Caden House (@CadenHouse) February 12, 2019
Caden is known to WoW players as Ythisens, one of the most prominent Blizzard posters on the WoW forums. The EU forums took a similar loss with Aerythlea — and there are probably plenty more cuts we haven't heard about yet. We're losing lots of familiar voices on the community and events teams, and we may not realize who's gone until we notice they've vanished from view.
This just in: a punch in the face still feels like a punch in the face even when you know it's coming.

— Ash 💙 (@ashliiful) February 12, 2019
But while the company is making these painful staff cuts, it's adding development staff. Blizzard is growing the dev team by 20%, and specifically said the Warcraft, Hearthstone, Overwatch, and Diablo development staff would be expanding. Though there was mention of other Warcraft games (like the upcoming re-release of Warcraft 3) and multiple Diablo titles (something we've heard before), there are no specifics about what these new developers will be working on. The overall message was that the company would be producing more, more, MORE content to satisfy hungry gamers.
Affected Blizzard employees will get a severance package, but they're still out of a job. Social media has been flooded with Activision Blizzard employees suddenly looking for gigs and — hearteningly — plenty of people trying to help them find a new home in the gaming industry.
Our hearts go out to all of those who have lost their jobs, and we hope they can all find work soon.