WoW
Feb 13, 2019 10:00 am CT
We only recognize half of the Kul Tiran and Zandalari Troll dances — but we're just happy to see unique dances for Allied Races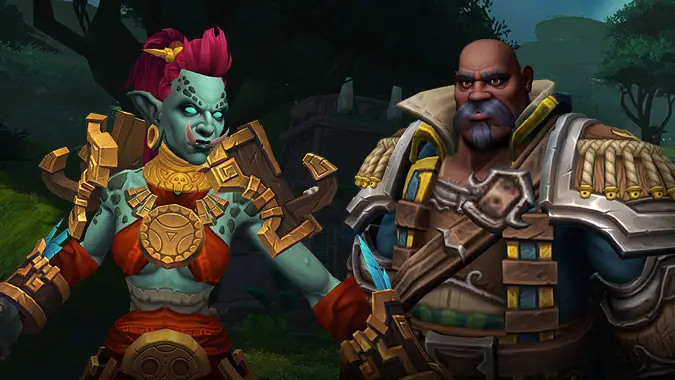 Turns out the Zandalari and Kul Tirans aren't just your average Allied Race — they've been updated on the 8.1.5 PTR to include brand-new dance moves. It's a first for Allied Races, as all previous editions simply perform the dance commonly associated with the model they're using. It looks like we'll have to keep our hopes up for eventual updates and make do with the fancy footwork displayed by our new Troll and Human friends in the meantime.
Wowhead put together videos of all the new routines, and although not every dance has been sourced just yet, it looks like some of them have their origins identified. On the Kul Tiran end of things, the male dance appears to be inspired by the Mr. Thiccman video. Oddly enough, the dance goes surprisingly well with Kul Tiran tavern music.
As for the Kul Tiran female dance, it's a ballet routine of some sort. At the moment it doesn't seem to have a source, but the elegant, sweeping moves suit the Kul Tiran model nicely. Honestly, to me, it fits somewhere between ballet and ballroom, and I really love the graceful lines throughout. I only wish it had a little more variety — but hey, it's a marked improvement over the Human Female's stale Macarena moves.
Over on the Horde side of things, the male Zandalari Troll model has an all-new dance that has yet to be identified. I'm a little disappointed with this one, but that's mostly because the original Male Troll dance is already so cool. I mean, you can't top the handstand really, can you? Maybe they could add the handstand as a secondary move to what they've already come up with — it couldn't hurt, really.
The Zandalari female dance, however, has been sourced — according to Wowhead it's the Gwara Gwara, a South African dance move. While I've always been a fan of the original Female Troll dance, I like this one a lot. Again, it's a fairly simple routine, but it suits the Zandalari model quite nicely.
Honestly, I like all four of the new dances — my only not-quite-complaint is that I wish they were longer. Most of the original dance routines from existing races randomly rotate between a few different sets of moves. They're repetitive, sure, but at least there's a little variety. However, I think it's pretty cool that these Allied Races are getting new dances to begin with. Maybe it's a sign that we'll see the other Allied Races get an upgrade at some point in the future? While we're at it, maybe we could get some updated routines for the existing races — I wouldn't want to see the existing dances disappear, I'd just like a new selection of moves, you know?
What I really mean here is that basically, I'd just really like the Dance Studio already. Remember when that was a thing back in Wrath? I sure do.
Dance Studio or no, the new Zandalari and Kul Tiran dances are an unexpected perk to an already appealing pair of Allied Races. Get ready to tear up the dance floor when patch 8.1.5 is released!