Off Topic: Yes, Tetris has a battle royale mode now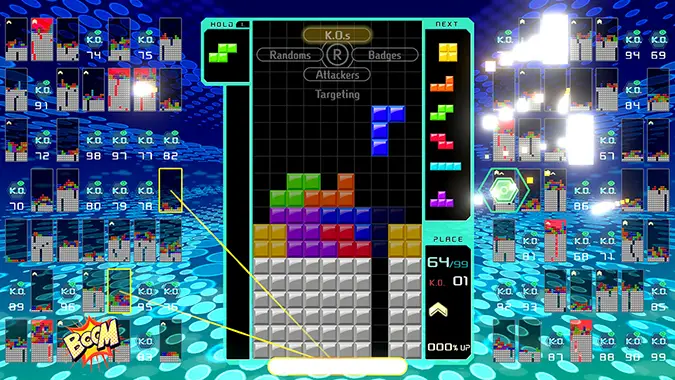 Nobody ever thought the question "Where we droppin' boys?" would have referred to a Tetris game where 99 players race to clear lines until they're the last one standing, but here we are.
Tetris 99 was announced during yesterday's Nintendo Direct and then launched on the Switch as soon as the presentation was over. The game requires the Nintendo Switch Online subscription but is otherwise free to play. I had hopes that it would be free for everyone, but Fortnite is still the only free-to-play game that doesn't require that subscription.
WHERE WE HARD DROPPIN' BOYS???? https://t.co/BemxKKExDD

— Jared Rea (@jaredr) February 13, 2019
The game functions just like normal Tetris. You arrange and drop unique blocks in a vertical column. In this game though, when you clear lines, they send "garbage" blocks to other players' boards. You can choose to send useless blocks to random players, people who are attacking you, people close to overfilling their board, or people who have earned badges by knocking out other players already. Those badges will increase how many garbage blocks you'll send to other players, so you want to focus on getting those.
The game was briefly the most-viewed game on Twitch, over games like Fortnite, Counter-Strike: Global Offensive, and Apex Legends. At the time of this writing, it's still in the top 10. People want to see some intense Tetris apparently.
Whether or not this is a battle royale is kind of unimportant, but it does make you think about other games that could be turned into multiplayer arenas like this. Until now, the concept of a battle royale game has been action games with characters running around physically fighting each other. Now we have a puzzle game that has no headshots or loot to pick up and it still maintains the genres themes. This is also a game that would work incredibly well on phones, which might give it an edge over shooters on that platform.