WoW
Mar 13, 2019 2:00 pm CT
Battle-Hardened Heirloom upgrades boost heirlooms to 120 in Patch 8.1.5, but they aren't cheap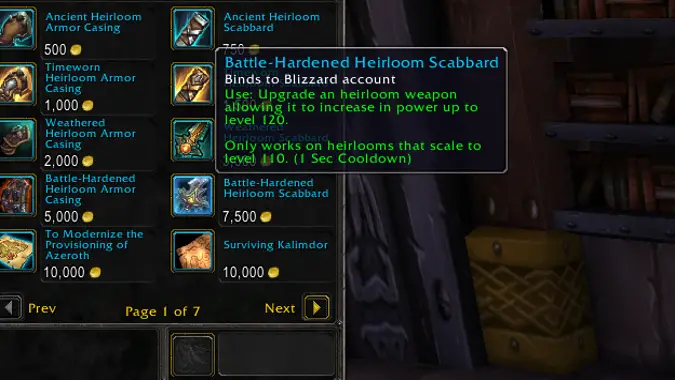 Folks, let's talk about heirlooms. In patch 8.1.5, we can now upgrade our heirlooms to 120, using the Battle-Hardened Heirloom Scabbard and the Battle-Hardened Heirloom Armor Casing, both available at the Ironforge and Undercity heirloom vendors. Now, you'll have to travel back in time to UC before it got blight bombed, which is a trifle inconvenient, but it's still doable. Either way, these new upgrade items which will allow you to boost your heirlooms cost 5,000 gold for the Armor Casing and 7,500 gold for the Scabbard.
If you're leveling an alt and want to use heirlooms, and you've already upgraded them to scale to 110 before the patch dropped, that means upgrading a single character's heirloom set to scale to 120 will cost you at least 35,000 gold — 5,000 gold per armor piece for head, shoulders, cloak, chest, and legs, plus 5,000 gold for each trinket. Given there are only four cloaks and a solid amount of overlap among the various trinkets, a set of armor — head, shoulders, chest, and legs — will still cost you 20,000 gold.
If you want to upgrade absolutely all of your heirlooms, you're looking at a lot more money. Just to upgrade the complete sets — i.e., not including cloaks, trinkets, or weapons — for plate, cloth, leather, and mail will run you 80,000 gold. Similarly, if you're looking to upgrade two weapons, that's 15,000 gold, with another 7,500 gold per additional weapon. Shields and off-hand items that aren't weapons only cost 5,000 gold to upgrade.
That's a pretty sizable chunk of change, and if you're an heirloom completionist, you could easily end up dumping a lot of gold just bumping all of your heirlooms up to 120. It's worth considering that helm, shoulder, and chest heirlooms will of course give you roughly 30% more experience wearing them, but you'll be giving up Azerite powers from all three slots if you use the heirlooms. Since leveling in Battle for Azeroth assumes you'll have Azerite gear as you level, it could impact how leveling feels to use heirloom gear in those slots.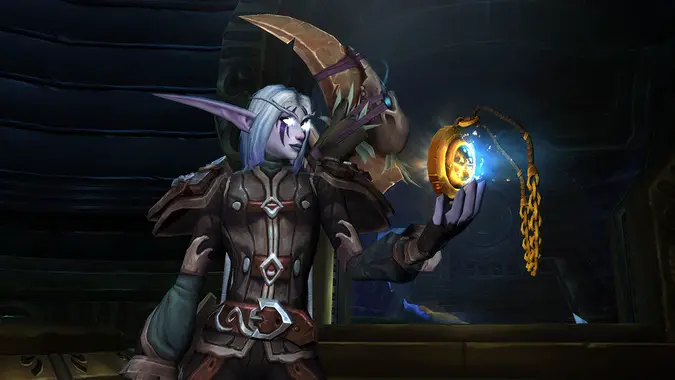 Still, you could easily upgrade a weapon (or two, if you use two), a shield or another offhand, or legs and a cloak — even if you didn't want to lose Azerite Armor for head, shoulders, and chest armor you could still get 15% bonus experience. It really comes down to how fast you want to boost your alts and if you think the Azerite powers on your leveling gear make that much of a difference. I honestly didn't feel much like mine did until level 118 or so, so I'd suggest going for the big five slots — if you're of a mind to — and get helm, shoulders, cloak, chest, and leg heirlooms first. Weapon drops came pretty often in my experience, and weapon heirlooms don't give bonus XP anyway.
TL;DR, you're looking at potentially spending the following amount of gold on upgrading heirlooms just from 110 to 120:
A full set — head, shoulder, chest, legs, cloak, trinkets, and two weapons — for one character: 50,000 gold
A full set — head, shoulder, chest, legs, cloak, trinkets, and two weapons — for all four armor types with no overlap between cloaks, trinkets, or weapons: 200,000 gold
Just the four main slots — head, shoulders, chest, and legs — for all four armor types: 80,000 gold
Just the four cloaks and four trinkets of your choice: 40,000 gold
Every heirloom the game has to offer: A whole h*ckin' lot of gold
So there you have it. Head to the vendor and, if you have the gold, pick up some upgrades for your beleaguered alts. And keep in mind, you can use resources other than gold, if you have them handy.