How much information do you get from the WoW forums?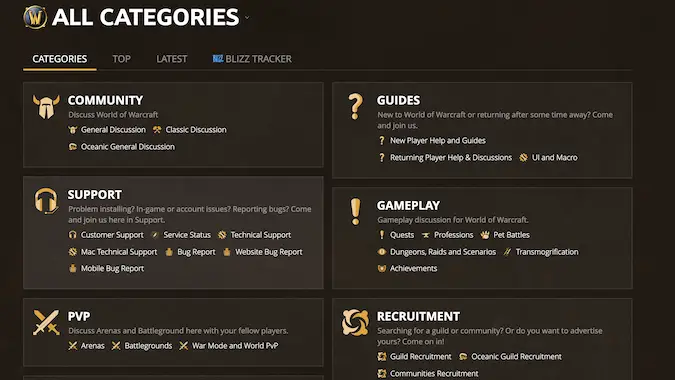 I was looking for some information recently and a guild member suggested I go to the WoW forums, as he remembered a thread about the topic in question. This gave me pause. When I want information, I never think to check the forums. Back when I started playing, they were a source of amusement, irritation, and information. Much has changed in the dozen years I've played.
When I started, WoW server forums had that "Wild Wild West" feel to them. Almost no topic was off-limits. I knew several regular posters who provided answers to questions or provided facepalm moments. I remember long arguments on all sorts of ideas. Forums could be counted on to rally around people being attacked — either on that very forum or in-game — or a place to post the name of a toon to be wary of. My guild had a member who scammed someone out of the Time-Lost Proto Drake. Once we verified the story and kicked him from the guild, we went to the forum to let the rest of the server know why he was not to be trusted.
Given the "nearly anything goes" nature of the forums back then, policing them was — to be fair — something of a chore. But I also think we regulars did a lot of self-policing — at least on my server. There were people who were dedicated to keeping the forum friendly even when the discussion was on incendiary topics such as politics and religion — and they were regular players.
There have been at least two forum redesigns over these past dozen years. With a redesign before Cataclysm, Blizzard was going to attach Real ID names to posts to cut down on trolling and to make identification of harassment easier. The player base complained and this idea was — thankfully — scrapped. But the forums saw a consolidation of topics and a more stringent enforcement of calling players out by name.
The latest redesign — after BlizzCon last year — consolidated topics and added a Blizz Tracker which, at the click of button, shows you blue posts. Compared to the hodge podge I remember, this new redesign is spiffy. I can actually find things in which I have an interest — if I ever think to go here.
And that brings up my questions for you this morning. How often do you go to the WoW forums? I admit that since the calling out of bad players has been censored and the truncation of off topic posts, I rarely go to the forum unless someone suggests it or I have an inkling information might be found there. If you do go to the forum, is it to find information, to post, or are you merely a lurker? Few people post to my joint server forum anymore. It's kind of sad. So tell us, if you need information, do you even think to go to the WoW forums?