Blizzard's previously staff-only LGBTQ pin now available to all, with proceeds benefiting The Trevor Project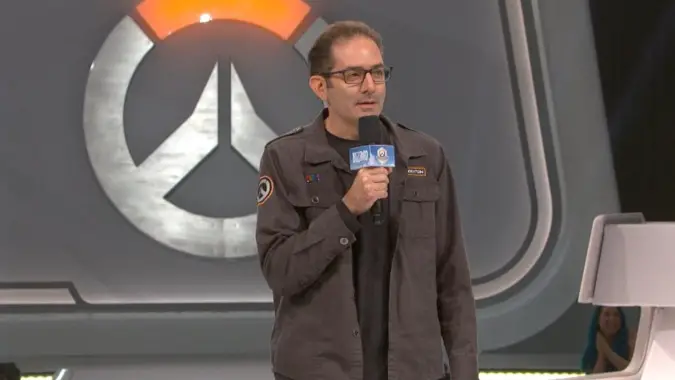 During last BlizzCon's opening ceremony, despite uploading screenshots every couple seconds like my hair was on fire, a particular pin worn by several of the executives gave me pause. Jeff Kaplan, J. Allen Brack, and others all chose to wear an enamel pin with the company's name in rainbow lettering. It was small and barely visible, as you can see — or maybe not see — in the screenshot above, but it was a statement of support for the LGBTQ community. Throughout BlizzCon, one of the questions I saw most often was people asking where they could get one, or the sticker with a similar design.
The sticker was available in limited quantities in the Diversity Lounge at BlizzCon, but sadly the pin was an internal item, only obtainable by Blizzard employees — until now.
The month of June is Pride Month, and as it kicks off, this coveted item is finally available for general purchase. Not only that, all the proceeds go to The Trevor Project, a non-profit organization aimed at suicide prevention of LGBTQ youth. The Trevor Project offers free counseling via phone, chat, or text.
Blizzard has been offering charity partnership items periodically, like the Pink Mercy skin which raised over $12.7 million dollars for the Breast Cancer Research Foundation. Putting an item in their store which lends both moral and material support for LGBTQ causes is a great way to celebrate Pride.
Hopefully, Blizzard continues the trend of supporting its LGBTQ community vocally — both IRL and by offering more diverse representation in their games — in the years to come.