WoW
Jul 18, 2019 10:00 am CT
How to navigate the Mardivas quests in Nazjatar so you can get more reputation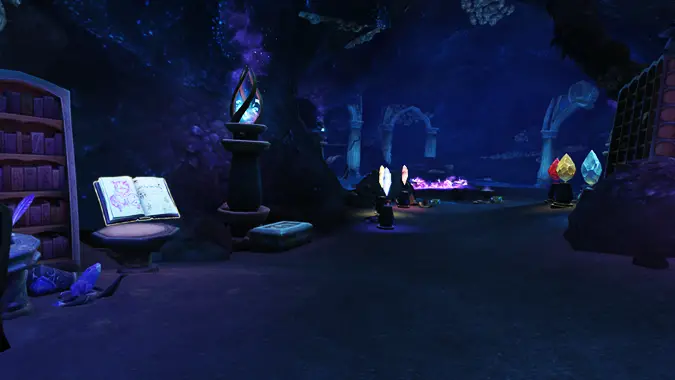 Like many of the secrets in Nazjatar, Mardivas' laboratory isn't very intuitive, but going there each week is worth it. Mardivas was a Highborne Mage who was obsessed with keeping his treasures safe, and as a result was a little mad. For us, however, he is the source of easy World Quests and a way to get more reputation in Nazjatar.
To unlock Mardivas' questline when you first get to Nazjatar, you need a Silver Knife, which can be found randomly in either the Arcane Chests in Nazjatar or in the chests that you discover with Scrying Stones. This starts the quest Strange Silver Knife (Alliance, Horde). From there you go on a search for more information and find diaries from citizens talking about the mad sorcerer. The clues lead you to Mardivas' own journal, and you have to decipher the puzzle to open the enchanted lock.
This short questline then opens up the puzzle World Quests. One is a version of Bejeweled, using colored runes to match up a certain amount of a particular color. The other is untangling ley lines. Completing all the puzzles will give you Puzzle Performer.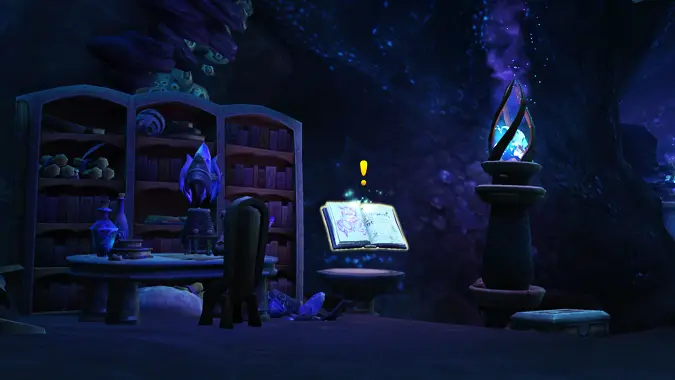 Mardivas' weekly quest
The real game changer is Mardivas' laboratory and a weekly quest that will net you 500+ rep each time.
It starts by acquiring Lesser Benthic Arcanocrystal, which has a random chance to drop off mobs like elementals and Naga. This leads to Legacy of the Mad Mage. The quest will direct you to Mardivas' laboratory and show you how to place the Arcanocrystals and activate the Elemental Essence Amalgamator. After you do the introductory quest, you can go back to Mardivas' laboratory each week to pick up The Laboratory of Mardivas. The cave entrance is at 60.71, 32.41, right next to the Jumping Jellies World Quest.
Like the first quest, you use the amalgamator to spawn another mob. Killing it and turning in the quest rewards 500 rep and 5 Manapearls. If you empower one of the crystals, as detailed below, you can get either an extra 50 or 75 rep from killing the mob it spawns.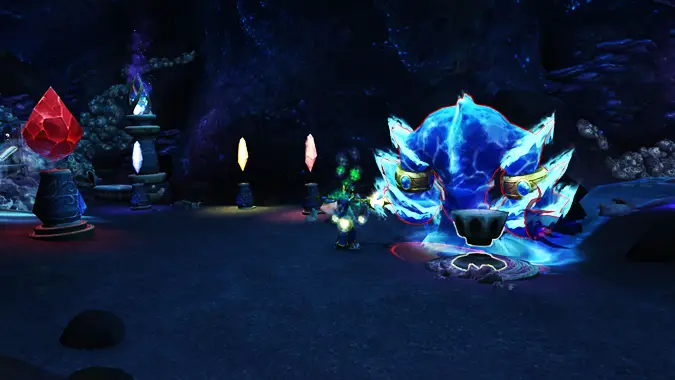 Getting the achievement for the Nazjatar meta
There is also a twist to this quest, which will give you an achievement. You might have noticed "Strange" reagents in your bags while questing in Nazjatar. These can be used to activate the different-colored crystals in Mardivas' laboratory and spawn various mobs.
The way it works is that you can use the reagents in certain combinations to activate the corresponding Arcanocrystals, which will spawn a different creation when you use the amalgamator. If you activate the amalgamator without empowering any crystals, it will spawn the regular Arcane Amalgamation. Killing every single creation will grant you Periodic Destruction, which is needed to get Undersea Usurper and the crab mount. Because this is a solo quest and being inside the lab phases you away from any grouped players, the achievement will take 13 weeks to complete.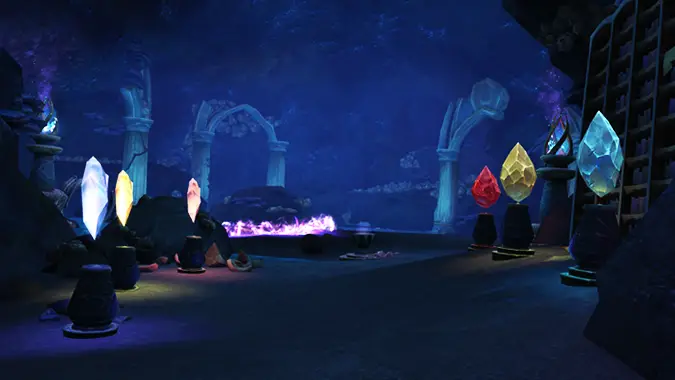 There are two sets of crystals — three Lesser Arcanocrystals and three Greater Arcanocrystals — in blue, yellow, and red. Simply click on your desired color of crystal, which will then confirm you want to use the corresponding reagent. If you don't have the necessary reagent in your bags, you won't be able to interact with that color crystal. Strange Mineralized Water is used for the blue Arcanocrystals, Strange Oceanic Sediment for the yellow, and Strange Volcanic Rock for red. Here is a list of what colors spawn which mobs:
Lesser Arcanocrystals (50 rep)
Lesser + Greater Arcanocrystals (75 rep)
If you need a certain reagent, they go for very cheaply on the Auction House. You can also find them more abundantly if you have a piece of Benthic gear with Elemental Instincts on it. While the quest isn't farmable, and is only a once a week thing, it's still a good amount of rep that will definitely help you on your way to flying.