Come watch us pretend to be heroes on the Blizzard Watch D&D stream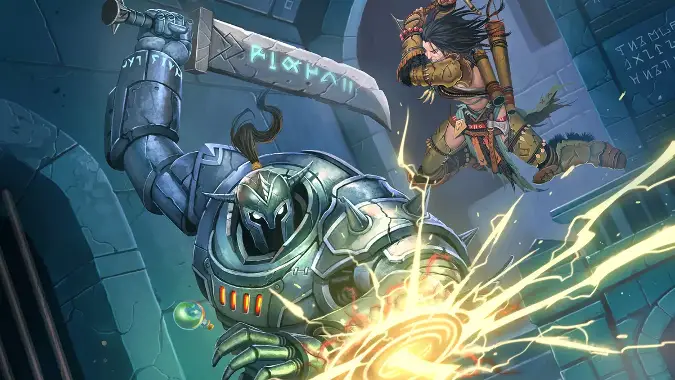 This Saturday on the official Blizzard Watch Twitch channel at 2:30 PM Central time, our intrepid band of adventurers will once again sally forth into the mysterious jungles of the island of — well, so far exploding volcano lairs, giant magma dragons, angry kobolds riding on giant monsters, and crashing airships. What will our party do this time? Well, if you caught us last time, you'll realize that absolutely no force in existence could predict what this particular group is gonna do.
See, what's happening here is, these women and men somehow decided that it would be fun to let me, a person who is of questionable everything, run a D&D game for them. Since then we've been coming together from time to time to discover just what will happen when we all start playing pretend with the help of the tabletop RPG game Dungeons and Dragons, which provides us with handy rules to determine what happens when a bird person tries to murder a surrendering prisoner and a sorcerer made partly of elemental force objects, for just one random example.
Up to this point, Mitch "Mitch" Mitchell, Liz Harper, Anne Stickney, Cory Taylor, and Deb Montague, plus returning player Joe "Lodur" Perez, have survived all that the island has to throw at them, albeit not without some disagreement between each of them as to what the proper course of action should be. But now we're at the edge of the great jungle that surrounds the interior of the island, and they have to figure out what they're going to do next — they're stranded on an island that they were kidnapped to in the first place and they have no idea why, much less how to get back to the civilization of the Riatan.
So what happens next? It's D&D, so we have no idea, and we're all waiting to find out. Why not come find out with us on the Blizzard Watch Twitch channel and listen as we roll dice, play pretend, and potentially learn the secrets of the mysterious Island. It's rapidly turning into a Sword and Sorcery version of Lost here.