Join us tomorrow Saturday, August 17, for yet more D&D shenanigans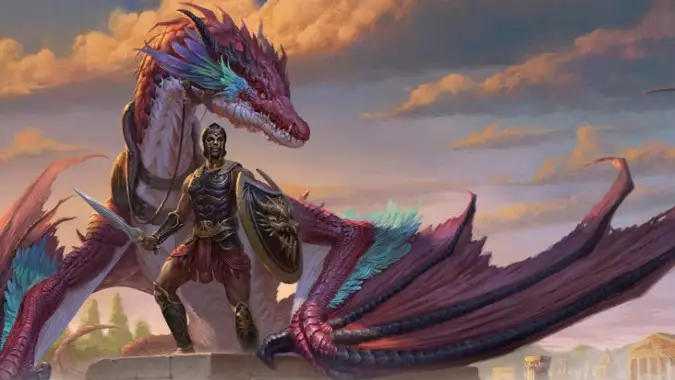 Hi.
I'm Matt. For some reason, the fine folks here at Blizzard Watch have decided that they want to play Dungeons and Dragons, and moreover, that I should be the Dungeon Master of these escapades. Who am I to say no? Well, I'm me, but I didn't say no and we're doing this. Join us on our Twitch channel on Saturday, August 17 at 1pm CDT and you'll get to listen along as our own Mitch "Mitch" Mitchell, Liz Harper, Anne Stickney, Cory Taylor, and Deb Montague endure more of my patented brand of throwing stuff at them and seeing what they do while shaking my head. Also, dice will be rolled.
We've done two of these sessions, the increasingly poorly named One-Shot Spectacular, and the perpetually accurately named We're on a Boat session, which indeed took place on a boat. A flying boat, and one that was being chased by an enormous dragon made out of exploding volcano, but still. The episode lives up to the title, is what I'm saying.
The story so far is that our brave adventurers woke up in a strange underground lair, with troublesome goblins attaching strange magical crowns to their heads. Upon escaping, they found themselves ascending into the main chamber of a volcano lair that was in the process of erupting suspiciously. After finding a floating magical boat to escape said volcano, a huge dragon erupted from the caldera and gave chase, only leaving when it appeared that the boat was certain to be destroyed. There may have been some firing of a ballista bolts into its hide, too.
Now, our intrepid party of people who got kidnapped and experimented on by goblins finds itself in the wilderness on a strange island where I'm sure no dinosaurs are going to eat them.
So yes, come see our fine players cope with almost certain death and a lack of civilized amenities on the next Blizzard Watch D&D Spectacular, this Saturday, August 17 at 1 pm central time. I promise there will be no Flumphs.