Which Overwatch skins come with the BlizzCon Virtual Ticket?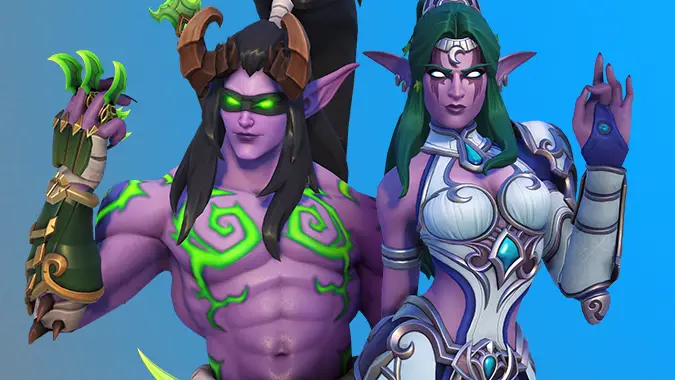 If you remember all the way back to BlizzCon 2018 then you remember the excellent Sombra skin that made her Valla, the Demon Hunter from Diablo 3. This rare, exclusive to BlizzCon and Virtual Ticket holders skin was available the day of the convention, and it was pretty freaking rad if I allow myself to use the language of my people. My people are terrifyingly old. But regardless, this year's BlizzCon Overwatch skins are even more interesting — they're a pair of Warcraft icons translated into the team shooting juggernaut. There's a skin for Genji that makes him look like Illidan Stormrage, and a skin for Symmetra that literally just is Tyrande Whisperwind. Seriously, it's note perfect.
Both skins are pretty amazing, actually, and they made me think about the potential of a whole Warcraft game using the Overwatch engine — perhaps even something that breaks out of the shooter genre entirely and uses this level of detail and styling to bring Warcraft to a whole new game. Where's my Hanzo Malfurion skin, Blizzard?
Since last year's skin didn't arrive until the actual convention, I expect these skins to be active on November 1st as well, so that people who go to the con get theirs around the same time as Virtual Ticket holders. But I don't know for sure, of course. What I really wonder is, what other Blizzard themed skins could we get? Perhaps tied into a new Blizzard World map, or just an event, or even for next year's BlizzCon? Will BlizzCon 2020 go into another game, like StarCraft, or even something more obscure like Blackthorne? No, probably not Blackthorne, as cool as Kyle Vlaros is.
I seriously cannot get over that Tyrande skin. The Illidan skin is great too, but he's still using a sword, so that detracts from it for me — definitely wish that was a Warglaive. But Symmetra looks perfect as Tyrande. Blizzard, use this engine for a Warcraft project, it's super impressive.