The BlizzCon 2019 schedule is finally here, and it's full of holes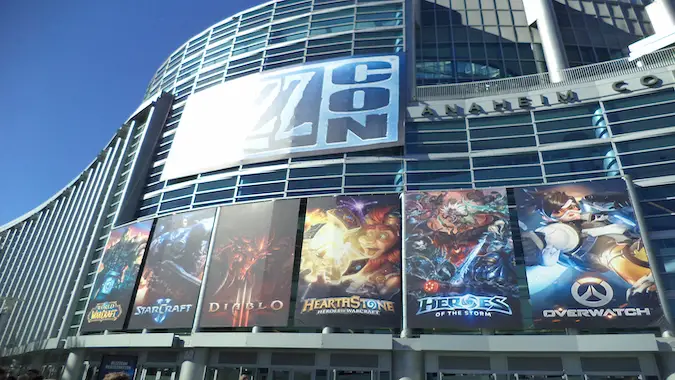 Blizzard has been known to leave gaps in the BlizzCon schedule to surprise us with big announcements, this year's schedule has a lot of gaps. In fact, it's mostly gaps.
Friday's opening ceremonies — where most of the excitement will be — are immediately followed by four consecutive panels only listed as "Coming Soon!," with two more "Coming Soon!" panels on Saturday. The schedule is full of esports events, voice actor panels, art panels, writing panels, and other behind the scenes content, but it's sparse on games. Where gameplay is concerned, World of Warcraft has a just a single panel and a single Q&A. Overwatch, Hearthstone, Heroes of the Storm, and WarCraft 3: Reforged each have just a single, 45-minute panel. Other than art panels, Diablo isn't on the schedule at all. And other than esports, StarCraft is nowhere to be found. The closing act isn't listed on the schedule either, but that's often announced later so I'm not entirely surprised.
The lack of information is frustrating if you're trying to plan your time at the show (or on the virtual ticket), but in my mind, the lack of news is actually a good thing. The fact that Blizzard isn't releasing a lot of details suggests that they have big surprises in store for us. Surprises they've never (officially) hinted at. Surprises that are so big they can't even be listed with a panel title.
We're almost certain to to get a World of Warcraft expansion announcement this year — and if I were to guess, my money's on that taking up the panel slot right after the opening ceremonies. But what else? It's possible we'll get confirmation for some of Blizzard's biggest game rumors, like Diablo 4 and Overwatch 2. We might finally see Blizzard break beyond gaming with an animated series for Diablo (which has already been rumored) or Overwatch (which I think we all want). We could get more remastered titles, too — the floor map shows the Blizzard Arcade area packed with demos that are a blast from the past, from perennial favorite Diablo 2 to Blizzard's oldest games like Blackthorne and Lost Vikings.
But even if Blizzard announces all of those things, six empty panel slots is a lot of room to fill — and we probably won't know for certain what those panel slots contain until the opening ceremonies on Friday, November 1.
While we wait, you can check out the schedule and the floor plan and join us in speculating. I'll be right here, repeating the mantra "Diablo 4, Diablo 4, Diablo 4…"